| | |
| --- | --- |
| Earnings Plunge at CUs | |
ALEXANDRIA, Va. – February 22, 2008 Net income at the nation's credit unions plummeted 53% in the fourth quarter, pushing the industry's returns down to their lowest in decades, NCUA reported yesterday.

The industry's return-on-assets, the key profitability indicator, plunged to just 0.35% for the fourth quarter, from 0.75% at the end of the third quarter. The 0.35% mark was the lowest since the 1980's.

The main cause of the plunge in credit union profits was a massive shift of funds into provisions for loan losses as loan delinquencies and charge-offs are starting to tick up, according to Bill Hampel, chief economist for CUNA. Credit unions set aside $1.1 billion in new loan loss reserves during the period, an increase of more than 50%.

"That's a significant increase in provision for loan losses in the fourth quarter. That's the whole story," the CUNA economist told The Credit Union Journal yesterday. "It means that credit unions are projecting a big increase in charge-offs."

Delinquencies rose significantly for loan participations and indirect loans, while member bankruptcies soared by 35% for the full year, all portending more problems in the near future. (Credit Union Journal)
| | |
| --- | --- |
| Huge CU Losses Hit NCUSIF | |
ALEXANDRIA, Va. – (February 22, 2008) Buffeted by several large credit union failures, NCUA yesterday said the National CU Share Insurance Fund lost $185.4 million in December, the most losses for one month or for an entire year in the fund's existence.

In December, NCUA moved $168.1 million in additional provisions for losses into the fund, which insures the nation's credit union deposits and pays to liquidate failed credit unions. As a result, the fund had $215.8 million in loss reserves at year end 2008; $161.6 million of which is allocated for already identified problem credit unions.

Among the losses assumed by NCUA in the fourth quarter are those related to Norlarco CU, Huron River Area FCU and Cal State 9 CU, which wracked up more than $150 million in losses between them before being taken over by NCUA.

The additional loss reserves created a $108.3 million net loss for the fund for the month of December, and net income of just $55.7 million on the fund's $7.4 billion portfolio of Treasury securities for the year, down from a budgeted $206.3 million in net income.

The huge losses make it highly unlikely NCUA will be paying a dividend to insured credit unions this year. (Credit Union Journal)
| | |
| --- | --- |
| Beehive To Call It Quits As A CU | |
SALT LAKE CITY (February 21, 2008) – A majority of members of the $187 Beehive Credit Union who voted in its charter change balloting voted to leave their credit union charter and become a mutual bank, the credit union has reported on its Web site www.beehivecredit.com.

"We extend our heartfelt thanks to members who exercised their right to vote and look forward to maximizing convenience and continuing to provide high quality products and services to our members now and into the future," wrote Beehive President Scott Jorgensen on the site. "The charter change will be completed as soon as practicable following the receipt of applicable regulatory approval from the National Credit Union Administration, Office of Thrift Supervision and Federal Deposit Insurance Corporation."

The CU reported that 36% of the members eligible to vote, roughly 22,000 according to Jorgenson in local media story, voted 57% to 43% in favor of the move. Based on the CU's numbers that meant roughly 4,500 members voted to for the bank charter.

Teri Dial, a member who helped organize other members against the conversion said in a story in the Salt Lake Tribune that she planned to move her accounts once the conversion takes place and other members had told her of their plans to do the same. When asked about the possibility of loss of business Jorgenson was quoted doubting the possibility, "we've acted in the members' best interests" he said. (CU Times)
| | |
| --- | --- |
| Congress Urged to Bring CUs Under Community Reinvestment Act | |
WASHINGTON – (February 14, 2008) Community development advocates yesterday joined bankers in calling on Congress to expand the Community Reinvestment Act to credit unions and other entities not currently covered.
John Taylor, president of the National Community Reinvestment Coalition, told the House Financial Services Committee studies conducted by his group found that credit unions lag behind banks and thrifts in serving low- and moderate-income families and minorities. The credit union industry has grown enough "that it should never lag, but should be far ahead of banks and thrifts in providing credit to low-income and minority groups–particularly because of the tax benefits (exemption)," said Taylor. (Credit Union Journal)
| | |
| --- | --- |
| Merger-Mates Sought for Troubled California CU | |
SACRAMENTO, Calif. – February 8, 2008 State regulators yesterday announced they have received applications to merge two more troubled credit unions, as increasing numbers of credit unions in the state are reporting big losses for 2007.

The Department of Financial Institutions reported that California Preferred CU, a $43 million San Francisco credit union that reported a $946,000 loss for 2007, has applied to merge with Redwood CU, in nearby Santa Rosa.

Also, Commerce FCU, a $24 million credit union in Commerce that lost $67,000 last year, has applied to merge into E-Central CU in Pasadena.

In addition, NCUA is looking for a merger-mate for Cal State 9 CU, the one-time $440 million credit union that had a whopping $61.6 million loss last year.

In recent months Capital Power CU, a $49 million Sacramento credit union that lost $4.5 million in the first half of 2007, was combined with SAFE CU; Golden Bay FCU, a $225 million Mountain View credit union with more than $1 million in losses, was merged into Meriwest CU; and, Great American CU, a $50 million San Diego credit union that lost $1.6 million in 2006, was merged into Wescom CU. (Credit Union Journal)
| | |
| --- | --- |
| NCUA Ratchets Up Scrutiny of Losing CUs | |
ALEXANDRIA, Va. – (February 6, 2008) - NCUA yesterday said it has added full-time examiners and is conducting additional supervision to some credit unions in the face of huge losses being reported for 2007.

"Given that some of the credit unions causing concern are located in the western U.S., NCUA is also performing additional on-site visits," NCUA spokesman John McKechnie told The Credit Union Journal yesterday.

The federal regulator is watching some of those credit unions reporting large losses much more closely, but the NCUA spokesman refused to say which ones.

The moves come as increasing numbers of credit unions from throughout the country are reporting losses never seen before in the industry. Eastern Financial Florida CU, for example, reported a $49.5 million loss for the fourth quarter and a $45.2 million loss for the year. Wescom CU reported a $26 million loss for the fourth quarter and $33.2 million for the year. Meriwest CU reported an $11.4 million fourth quarter loss and $9.2 million loss for the year. SAFE CU, an $8.4 million fourth quarter loss and $5 million for the year.

More than 20 credit unions in California reported losses greater than $1 million for 2007, including Telesis Community CU $6.7 million, USA FCU $5.8 million, American First CU $5.1 million and Travis CU $4 million. (Credit Union Journal)
| | |
| --- | --- |
| Congress Eyes Reforms to Community Reinvestment Act | |
WASHINGTON – (February 6, 2008) - In what is expected to be a first step to reforms, the House Financial Services Committee yesterday scheduled a hearing for next week to celebrate the 30th anniversary of the Community Reinvestment Act, the law that requires that banks and thrifts set out a plan to provide services to communities they serve and that regulators monitor that plan.

The hearings are expected to be the beginning of the process to expand the CRA, which could include credit unions and other financial services providers, such as insurance companies and mortgage banks.

Barney Frank, the Massachusetts Democrat who chairs the financial services committee, has suggested in the past that credit unions nationwide, including the ones in his state, should be subject to CRA. Massachusetts is the only state in the country that requires CRA for credit unions.

The credit union lobby, both CUNA and NAFCU, are adamantly opposed to extending CRA to credit unions. (Credit Union Journal)
| | |
| --- | --- |
| More Hard Times Expected for California CUs | |
RANCHO CUCAMONGA, Calif. – (Thursday, January 31, 2008) Mounting losses among some of the Golden State's largest credit unions are expected to grow even more, at least in the short-term, as the state's economy continues to fall into recession.

"We expect to see more of what we saw in the fourth quarter, and probably a deepening of losses, increased loan loss reserves and charge-offs," said Terrin Griffiths, an industry analyst in the California CU League's research and information department.

She said unlike banks, which are reporting large losses on their mortgage portfolios, credit union members, many of them having trouble paying mortgages elsewhere, are having difficulties paying credit cards, car loans and other consumer loans. This has prompted many California credit unions to double and triple their loan loss reserves and fall into the red.

Many California credit unions are reporting huge losses for 2007, including: Wescom CU (a $33.2 million loss); Telesis Community CU ($6.7 million); USA FCU ($5.8 million); American First CU ($5.1 million); Sterlent CU ($4.8 million); Kaiperm FCU ($3.8 million) and Xerox FCU ($3.4 million).

Bill Hampel, chief economist for CUNA, said he sees similar problems in credit unions in other states that may already be considered to be in a recession, including Nevada, Florida and the Midwest states of Michigan, Ohio and Indiana, where job losses are adding to the devaluation in home prices to make it harder for credit union members. "A lot of credit unions are going to see their loan losses double and triple," Hampel told The Credit Union Journal yesterday. (CU Journal)
| | |
| --- | --- |
| Credit Unions Wade Deep Into Red Ink | |
ALEXANDRIA, Va. – (January 30, 2008) Credit unions moved billions of additional dollars into their loan loss reserves in the fourth quarter, creating some of the biggest losses in the history of the industry, according to preliminary fourth quarter data submitted to NCUA.

The biggest loser in the fourth quarter was Wescom CU, the $4 billion Pasadena, Calif., credit union which boosted its loan loss reserves by $24.3 million, or 68%, causing losses of $26.3 million for the quarter and a whopping $33.2 million for the year.

Several other large California credit unions, where the mortgage market has been hit harder than most states, also reported huge losses for 2007, like USA FCU, a loss of $5.8 million; Sterlent CU, $4.8 million: Kaiperm FCU, $3.8 million: Xerox FCU, $3.4 million: E1 Financial CU, $1.4 million and Kaiser Lakeside CU, $1.4 million.

The red ink was spread around the country. Credit Union of Texas, the biggest player in failed subprime auto lender Centrix Financial, reported a $5.8 million loss for the fourth quarter, and a $13.7 million loss for the year. Centris FCU lost $6 million for 2007: Alabama Central CU lost $5.7 million: Capital Community CU, in Grand Rapids, Mich., lost $8.8 million: CommunityAmerica CU lost $6.8 million: Allco CU $6 million: Peoples First Choice FCU of New Jersey lost $5 million: U.S. Alliance FCU in Denver lost $3.5 million: Bay Gulf CU in Tampa, Fla., reported a $3.1 million annual loss, and Allegacy FCU, in Winston-Salem, N.C., reported an $8 million loss.

That doesn't include some of the biggest losers who have been liquidated by NCUA and merged out of existence, including Huron River Area FCU, which had a $59 million loss for the first three quarters of the year: Cal State 9 CU, which lost $46 million for the first three quarters, and Norlarco CU, which lost $13.1 million, and is in the process of being liquidated.

Dozens more credit unions reported losses of $1 million or more in 2007. Most of the credit unions are operationally sound but represent additional allowance for loan losses, which must be taken from the bottom line under normal accounting rules.

So Alleghacy FCU tripled the amount of its reserves, adding an additional $11 million, thus pushing the $1 billion credit union into the red. Many other healthy credit unions were hit by the same requirement but were able to remain in the black. Suncoast Schools FCU, for example, reported a 95% decline in net income, from $56.5 million in 2006 to just $1.9 million in 2007, after adding $45 million to its loan loss reserves. (CU Journal)
| | |
| --- | --- |
| NCUA Seeks Comment on CU board fiduciary duties | |
ALEXANDRIA, Va. (1/25/08)--The National Credit Union Administration (NCUA) is seeking comment as it considers amending its rules to more clearly define a credit union board's fiduciary duties in the face of major decisions, such as mergers or conversions to mutual thrifts.
| | |
| --- | --- |
| CU survey addresses challenges, growth issues | |
BOSTON (1/23/08)--About 36% of credit unions surveyed say their biggest challenge is lower profit margins, while 34% say they struggle to identify ways to attract new members, according to a report released Monday on the evolution of credit unions.

The report, "The Evolution of the U.S. Credit Union Market," by Aite Group, analyzes the current credit union market, and credit unions' changing strategies and product offerings. Aite Group surveyed 101 credit unions with more than $100 million in assets.

While credit unions reported their challenges, 33% of those surveyed also indicated that they are planning charter conversions to savings institutions, thrifts or banks. Head-to-head competition with banks, increasing demand for more sophisticated portfolios from members and other factors have caused credit unions to change their strategies, the report noted.

New market conditions are forcing credit unions to abandon their strict membership guidelines and competitive strategies based primarily on price. Surviving today's competitive marketplace requires flexibility and "in the case of credit unions, it also sometimes means expanding well beyond their roots," said survey author Christine Barry.

The survey is part of a larger study, in which Aite studied 201 U.S. credit unions. (CU New Now)
| | |
| --- | --- |
| Filene Report: Allow CUs access to alternative capital | |
MADISON, Wis. (1/3/08)--It is in the public interest to permit U.S credit unions greater access to alternative capital sources, says a recent Filene Research Institute report.

In "Alternative Capital for U.S. Credit Unions? A Review and Extension of Evidence Regarding Public Policy Reform" author Robert F. Hoel explores the reasons why credit unions need alternative sources of capital, even though many credit union executives and economists believe credit unions are "overcapitalized."

Currently credit unions have only one source of capital--or sustenance--Hoel explains, and that is retained earnings. So credit unions tend to hoard retained earnings out of fear of a shortage. With alternative sources of capital, credit unions may be more efficient with their capital, Hoel said. (CU News Now)
| | |
| --- | --- |
| CU Tax Exemption Remains Among Targets In Treasury Report | |
WASHINGTON– (Thursday, December 27, 2007) CUNA is expressing disappointment that credit union concerns were not addressed in a revised white paper on tax reform issues published by the Treasury Department. In response, the trade group has sent a letter to Treasury Secretary Henry Paulson seeking to meet and discuss the "importance of preserving the credit union tax exemption."

Treasury issued the report, titled "Approaches to Improve the Competitiveness of the U.S. Business Tax System for the 21st Century," as a revised version of a report it issued in the Summer of 2007 with revisions reflecting concerns of other parties, but not those of credit unions.

In its letter, CUNA said the report continues to focus on repealing various business tax breaks in the federal code, including that of credit unions. CUNA said the report does not explain why some entities mentioned in the summer document—such as state and municipal governments—have been removed from the list of tax preferences in the new draft. (Credit Union Journal )
| | |
| --- | --- |
| Mortgage Mess Mounts at Credit Unions | |
Credit Union Journal | Tuesday, November 27, 2007
PASADENA, Calif. – The spreading fallout from the depressed mortgage market continues to mount at credit unions around the country, even at those institutions with little exposure to the subprime market, forcing some hard-pressed members to default on their credit union loans.
The spillover effect is causing healthy credit unions and banks to set aside new loan loss reserves and report losses in markets that recently counted on the run-up in home values to pad personal wealth, according to the president of Wescom Central CU which reported a $9 million loss for the third quarter. "Thousands of our members have these types of loans (with other lenders) and as the loans are repricing and payments are being reset it's breaking the budget for them," he told The Credit Union Journal last week. Wescom moved an additional $10 million to the allowance for loan loss so far this year and plans to add still more reserves in the fourth quarter. "It's going to get worse before it gets better," he said.
Mortgage-related woes of one kind or another have forced several large credit unions into bankruptcy in recent months and caused others to wrack up big losses, including the recent failures of Huron River Area CU and Norlarco CU, which had more than $400 million of mortgages in the deflating Florida home market. Other examples include Cal State 9 CU, which reported a $37 million third quarter loss due to its home equity program, and Allco CU, which reported almost $6 million in real estate-related losses for the first three quarters of the year.
| | |
| --- | --- |
| Subprime Foray Has Steep Costs for CUs | |
ALEXANDRIA, Va. – 11/26/2007 - Hundreds of credit unions continue to dig out of deep holes created by their ill-fated entry into subprime auto lending, helping form one of the worst periods in the industry in a decade or more during the third quarter.

Much of the losses are tied to the failed subprime auto loan program promoted by Centrix Financial, which resulted in hundreds of millions of dollars in credit union losses. But the red ink doesn't stop at Centrix. The economic woes moving around the country are exacerbating poor underwriting in many credit unions, forcing credit unions to boost loan loss reserves, report large losses and, in many cases, shutter their subprime or indirect auto loan programs.

Even credit unions without subprime programs are being dragged down because of their participation in subprime loan pools. The CEO of one Florida credit union attributed its $270,000 third quarter loss to the millions of dollars in Norlarco auto loan participations his credit union is holding. Those are different than the participations Norlarco sold in pools of south Florida real estate loans.

And dozens of credit unions are negotiating claims on millions of dollars in participations bought from other credit unions through the Centrix subprime loan program, which may have caused as much as $1 billion in losses for the 150 or so credit unions that participated in it. (Credit Union Journal)
| | |
| --- | --- |
| ABA Moves on CU Membership Fight | |
American Banker | Monday, November 26, 2007
Banking trade groups are arguing "no" in a court case that they hope will overturn a National Credit Union Administration ruling letting Members 1st Federal Credit Union in Mechanicsburg, Pa., extend its membership field to cover the more than 1.1 million residents of a 3,400-square-mile, six-county area.
The NCUA designated the area as a "well-defined, local community" when granting a community credit union charter to Members 1st in 2003. The American Bankers Association filed a motion last week in U.S. District Court for the Middle District of Pennsylvania, asking that the NCUA decision be vacated. It was the latest volley in a lawsuit the trade group filed in 2005.
The NCUA, Members 1st, and two other credit unions in the area have filed a cross-motion, asking that the ABA's suit be dismissed. Briefing the motions is scheduled to be completed by Dec. 18 after which the case will go to the court for a decision.
In a press release Wednesday, the ABA said its brief argues that the area is not a single community but encompasses three metropolitan statistical areas, 93 boroughs, 140 townships, and 50 school districts.
| | |
| --- | --- |
| Canada's Credit Union System Hits Two Milestones | |
TORONTO, Ontario — November 20, 2007 - Strong growth in the Canadian credit union system has pushed it to two new records: more than $100 billion in assets and more than five million members at the end of the third quarter of 2007.

Combined assets for the system rose 10.8%, year-over-year, to reach $102.4 billion at third quarter 2007, a 45% increase or $32 billion gain over the last five years, according to Credit Union Central of Canada. Deposits and savings increased by almost $7.8 billion to reach $89.2 billion at quarter-end. Consolidation continued in the system and the number of credit unions declined to 472 from 501 a year earlier.

Demand for loans remained high as total system loans increased by an annualized 11% or $8.5 billion to reach $86.1 billion at third quarter. Loans as a percentage of total deposits are currently at 96.5%, compared to 95% 12 months ago and 89% 10 years ago. (CU Times)

(Editors note: Canadian Credit Unions serve members well despite being taxed.)
| | |
| --- | --- |
| Expenses Eat Away at CU Tax Advantage | |
Key Biscayne, FL - 11-12-2007 - Credit Unions have already given up their tax advantage, they just don't realize it.

"Credit unions have given up their tax advantage to cost inefficiencies," CUNA Mutual Group CEO Jeff Post said, explaining why he counts the battle for operating efficiencies among the top challenges for credit unions.

"Even if you look at the billion-dollar credit unions only, they are losing the expense game," he said. "Banks are winning this game, and it's a game we can't afford to lose. The expense game is crucial, and right now, expenses are eating up the credit union tax advantage." (CU Journal)
| | |
| --- | --- |
| FDIC and NCUA Data | |
Banks Pay Higher Yields on Retail Savings Deposit 7 out of 10 Years
Washington, DC - 11-1-2007 - NCUA, credit union lobbyists, and a few critics of credit union conversions to the mutual bank charter claim that the credit union tax advantage allows credit unions to pay higher rates than banks on savings. However, call report data from the FDIC and NCUA reveal that, despite the tax subsidy, in 7 out of the last 10 years, banks, rather than credit unions, paid more interest. The data validates industry and Congressional concern about about the truthfulness of NCUA's mandatory disclosure as part of a credit union to mutual savings association conversion.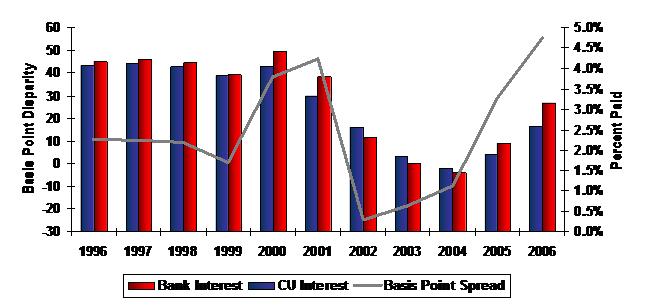 | | |
| --- | --- |
| Steep Real Estate Losses Tank $400 million Credit Union | |
CONCORD, Calif. - 11-7-2007 - Soaring losses in the real estate loan portfolio of Cal State 9 CU forced NCUA to take the $390-million state chartered credit union under conservatorship, with plans to either merge or sell the failed institution.

The regulatory action came as losses at the 60-year-old credit union mounted to $45.9 million at the end of the third quarter, from $9.1 million at mid-year. As a result, the credit union's net worth plummeted to just 2%, well below federal limits.

Most of the losses were centered around the credit union's real estate loans, mostly a home equity line of credit program, that was developed about a year ago.

Cal State 9 is the fourth mortgage-related credit union failure in recent months, with more troubles expected to be revealed after NCUA reports third quarter financials for all credit unions in the coming days.

The failure follows recent real estate-related failures of $340-million Norlarco CU, and $320-million Huron River Area CU. Another failed credit union, New Horizons Community FCU, also had a large real estate portfolio. All three credit unions were exposed to speculative real estate developments in southwest Florida. (CU Journal)
| | |
| --- | --- |
| NCUA Adopts Modified Bylaw Plan | |
ALEXANDRIA, Va. — 10-26-2007 - The NCUA Board voted 2-1 today to reincorporate the Federal Credit Union Bylaws into federal regulation.

Despite assurances from NCUA that they are not interested in becoming bylaw police, the credit union trade associations will keep a close eye on enforcement. The bylaws were removed from the regs as part of the overall deregulation movement in the 1980s.

NCUA Vice Chairman Rodney Hood cast the dissenting vote. "I have asked a lot of questions of the NCUA staff about the necessity of this proposal and could only come to one conclusion—incorporating the bylaws into regulation is not only excessive, but unnecessary," he said during his remarks at today's board meeting. (CU Times)
| | |
| --- | --- |
| Florida Real Estate Bust Catches CU Giant in $30 Million Bind | |
WEST PALM BEACH, Fla. – 10/25/2007 - In another sign of credit union exposure to the latest Florida land bust, Eastern Financial Florida CU last week filed suit to foreclose on a $30 million loan it made to a now-troubled condominium project. The developer, well-known Merco Group Inc. of Miami, has failed to make payments on the loan since June, according to documents filed in Palm Beach County Circuit Court. The developer has failed to break ground on the 338-unit condo development overlooking Florida's Intercoastal Waterway due to inadequate preconstruction sales. The condos were supposed to sell for amounts ranging from $350,000 to $4 million each.

The project is the latest in the once-heated Florida real estate market to embarrass credit unions, with three medium-sized credit unions, Norlarco CU, Huron Rivera Area FCU and New Horizons Community CU, having failed because of speculative loans in southwest Florida, and dozens more exposed to loan participations in those projects. (CU Times)
| | |
| --- | --- |
| NCUA puts focus on CU members | |
WASHINGTON (10/9/07)—National Credit Union Administration (NCUA) General Counsel Robert Fenner told a group of about 125 credit union attorneys that his agency is putting a renewed focus on credit union members. He made his remarks at the Credit Union National Association's Attorney's Conference in Jackson Hole, Wyo.

The agency, Fenner told attendees, wants to assure that credit union attention is focused on "putting members first." It will be looking into such areas as credit union conversions to another form of financial institution, mergers, and the adequacy of disclosures involving private insurance.

Once the agency completes its study of these areas, it will determine whether or not any new rulemaking is required. (CU Times)
| | |
| --- | --- |
| New Zealand CUs worried about possible tax review | |
AUCKLAND, N.Z. (10/9/07)--Credit unions' growth in New Zealand has been stalled by outdated laws, but the removal of the statutes' restrictions may come at a price--credit unions' tax exemption, says an article in an New Zealand online business publication.

The article notes that New Zealand's credit unions are shrinking to 52 credit unions, compared with 160 more than a decade ago (Stuff.co.nz Oct. 7).

Doug McLaren, CEO of the New Zealand Association of Credit Unions (NZACU), a member organization of the World Council of Credit Unions, told the publication that growth has been stalled by outdated laws that prevent credit unions from raising capital through share issues and that limit borrowing to invest in business growth.

The article quotes a banking expert who says that the government, which has pledged to remove the restrictions, likely will consider removing the tax exemption as a tradeoff.

The Reserve Bank would not comment on the tax review but instead commented on providing tougher regulation of financial institutions--including credit unions--due to collapses in the industry.

A statement to the Sunday Star-Times from the office of Finance Minister Michael Cullen, who previously has supported credit unions, said there was "no sound reason" for special treatment for credit unions. (CU New Now)
| | |
| --- | --- |
| SBA funding, CU business loan fix asked of Congress | |
WASHINGTON (9/28/07)--Small businesses have greater access to capital through the U.S. Small Business Administration (SBA) programs, but credit union participation in such loans may wane as they are faced with the current roadblocks of increased fees and inadequate funding of the SBA's programs, a Credit Union National Association (CUNA) witness told a House panel yesterday.

The credit union lender also urged the committee to ensure adequate financing flowed to small businesses. He said Congress must address the arbitrary 12.25% of assets limit placed on credit union business loans, which he called "artificial and far too restrictive."

"Less than eight years into our commercial lending, and after only five years of SBA lending, we will soon hit the cap and have to limit future loans to businesses," he said. (CU News Now)
| | |
| --- | --- |
| NCUA Addresses Norlarco Worries | |
FORT COLLINS, Colo. — September 19, 2007 - Aiming to calm jitters among Norlarco Credit Union members, NCUA sent out letters this week detailing reasons for the regulatory conservatorship, assuring depositors that funds are safe and claiming a path is being charted to restore stability to the beleaguered $269 million CU.

In the "letter to members" signed by Melinda Love, NCUA's Region Five Director and Robert Hamer, president/CEO, NCUA blames the CU's current problems on the faulty Florida construction loans made by previous management "which exceeded prudent risk levels."

The letter also reviews secrecy surrounding the May takeover by the Colorado Commissioner of Financial Institutions and the subsequent NCUA conservatorship as done to avoid spreading unnecessary member fear.

The Colorado agency acted so "as not to alarm members until regulatory steps were implemented to address the situation," said the letter. (CU Times)
| | |
| --- | --- |
| NCUA 'Controls' Huron River Fate, Says Regulator | |
LANSING, Mich. — September 17, 2007 - Following its basic model on failed credit unions, NCUA remains in control on the outcome of the $268 million Huron River Area Credit Union of Ann Arbor, Mich. with no move so far to alter its status, a top Michigan regulator said today.

"NCUA controls the process and, of course, we are working with them as the agency seeks to resolve the situation at the lowest cost," explained Roger Little, deputy Michigan commissioner.

Like two Colorado CUs hurt by large losses on Florida housing loans and put into conversatorship with one eventually sold, Huron River could remain in NCUA's hands or eventually be spun off at auction, officials point out.

Huron River was put into conservatorship last February and so far NCUA has issued no timetable on when or if bidding might start, said Little. (CU Times)
| | |
| --- | --- |
| CURIA May Not Pass | |
WASHINGTON — House Financial Services Committee Chairman Barney Frank (D-Mass.) had mixed news for credit unions today during his address at NAFCU's 2007 Congressional Caucus.

Frank said he was interested in holding hearings in early 2008 to explore expanding the Community Reinvestment Act, which would cover a variety of financial services entities including credit unions. While he acknowledged that the credit unions with more focused fields of membership are already doing what CRA requires, "Some of the very large credit unions are going to have to show how you're doing that." Frank said what he had envisioned would not create "any new burdens for most credit unions."

As for the political viability of CURIA, Frank said, "I do not think there is any significant chance CURIA as it is in its entirety can pass both houses," but dared his audience to prove him wrong.
| | |
| --- | --- |
| Frank to Propose CRA for Credit Unions | |
WASHINGTON — 9-14-2007- House Financial Services Committee Chairman Barney Frank told a credit union group Tuesday that he would like to extend Community Reinvestment Act requirements to credit unions and other financial companies.

"CRA has eroded … because so many nonbanks are now part of the lending business," the Massachusetts Democrat said. "The biggest problem is that, as what became with the mortgage market, a much smaller percentage of lending is done by traditional financial institutions than what used to be."

During a speech to the National Association of Federal Credit Unions, he said most credit unions already adequately invest in their communities and would just have to "demonstrate or document" it. "The principle that every financial institution has some responsibility to its community is where we start," he said. (CU Times)
| | |
| --- | --- |
| CURIA Chances Dim | |
Washington - 9/11/2007 – The prospects for passage of the credit union regulatory relief bill known as CURIA are slim and getting slimmer, conceded the chief sponsor of the bill yesterday. Paul Kanjorski, the Pennsylvania Democrat who drafted the bill, told 400 attendees of NAFCU's Congressional Caucus he thinks Congress might hold a hearing on CURIA, but he is concerned debate and a vote on the measure will get pushed aside, especially as Congress approaches the 2008 elections. "I wouldn't anticipate there will be very much legislation," said Kanjorski. After his speech, Kanjorski told The Credit Union Journal the legislative calendar is short, even though there is more than a year left on the two-year Congress. That's because the second year will be occupied by major issues, such as the war in Iraq and electioneering. (CU Journal)
| | |
| --- | --- |
| NCUA Sued over Conversions | |
American Banker Thursday, July 12, 2007
By Luke Mullins
A Washington advocacy group that supports credit unions' rights to convert to saving banks is suing the National Credit Union Administration in an effort to force the agency to ease its conversion regulations.
The Coalition for Credit Union Charter Options said in a press release Wednesday that the NCUA has "distorted" the conversion process with its "excessive rulemaking." Its suit, filed in federal court Wednesday, is intended to "restore balance, fairness, and clarity to the charter conversion process."
The coalition's executive director, Lee Bettis, was the president and chief executive of a Georgia credit union that converted to a savings bank in 2001. The group's two advisory board members are also one-time heads of credit unions that became banks. In its suit, the coalition accused the NCUA of throwing up bureaucratic hurdles in an effort to thwart conversions. The agency opposes conversions because fewer credit unions mean less income for its deposit insurance fund, the coalition said.
"They say they're trying to protect the consumer, but what they're really protecting is themselves,"Mr. Bettis said in a press release.
NCUA Chairman JoAnn Johnson said the agency's conversion rules are designed to help credit union members make informed decisions. "Consumers deserve more, not less, transparency and openness as they consider their choices," she said in a statement.
| | |
| --- | --- |
| Dick Ensweiler, Texas Credit Union League: | |
"Why are we so passionate and they're not?"
LAS VEGAS – (6/6/2007) A group of people "passionate" about credit unions is trying to figure out why most Americans are not. Dick Ensweiler, president of the Texas league and chair of CUNA's new Membership Growth Task Force, said the group is considering nine questions related to credit union growth, but all of it really comes down to one challenge. "As credit union leaders, here we are believing in service to members and in the credit union difference," Ensweiler told the Credit Union Journal during America's Credit Union Conference here. "But 70% of Americans don't belong. Why are we so passionate and they're not? Where are we missing the boat? There seems to be this huge disconnect." Ensweiler noted credit unions talk about being not-for-profit cooperatives, yet in focus groups consumers say those things don't really matter. "We have to ask, 'Are we on the wrong course?'" Or, is the issue that credit unions simply aren't communicating well, he posited. (CU Journal)
| | |
| --- | --- |
| Congress Sees Long-Term Profitability Stagnant at CUs | |
WASHINGTON – (May 31, 2007) Credit union profitability has remained almost flat since the height of the S&L crisis, 16 years ago, while the profitability for banks has surged since then, according to a new study conducted by the General Accountability Office, the think tank for Congress. Since 1990, the average return on assets (ROA) for credit unions has gone from around 0.80% and was 0.81% for 2006; while the average for banks, which were struggling with S&L-like loan problems, then had to boost capital for new industry-wide rules, went from a mere 0.25% to 1.27% last year, the GAO found. Release of the study comes a week after NCUA reported that the average ROA for credit unions plunged in the first quarter to a 20-year-low of just 0.73%. (CU Journal)
| | |
| --- | --- |
| Giant CU, Think, Cleared for Bank Charter | |
ROCHESTER, Minn. 4/13/2007 – NCUA has approved the conversion of former IBM employees credit union, Think FCU to mutual savings bank, officials announced yesterday. At $1.2 billion, the credit union giant once known as IBM Mid-America FCU, is one of the biggest credit unions to make the switch to bank. Think members voted narrowly, 51% to 49%, last month to make the charter switch, which credit union executives said will not entail a sale of stock in an initial public offering. Think is the second largest credit union, behind only $1.4 billion Community CU, to convert to bank. (CU Times)
| | |
| --- | --- |
| CUNA Witness: SBA Lending "too cumbersome" | |
WASHINGTON (3/8/07)—Credit union witness Jeff Rodman, of Actors FCU in New York, N.Y., is expected to tell the House Small Business Committee today that the process for qualifying for Small Business Administration (SBA) 7 (a) loans is "too cumbersome."

Rodman, scheduled to testify on behalf of the Credit Union National Association (CUNA), will tell the House panel that Actors has considered the SBA guaranteed loan program "for some time" and believes it would both expand and enhance the credit unions' business service to members.

"Unfortunately, we have found the process for qualifying as an SBA lender, and the requirements for underwriting and servicing individual loans, to be too cumbersome and time consuming to recoup the expense for the small size or number of loans we would make," Rodman's testimony is expected to note. (CUNA News Now)
| | |
| --- | --- |
| CUNA Witness Calls SBA Documentation, Fees Prohibitive | |
WASHINGTON — (3-8-2007) Actors Federal Credit Union CEO Jeff Rodman told members of the House Small Business Committee today that fees passed through to borrowers under SBA's 7(a) zero-subsidy program are prohibitive, as well as the documentation procedures.

While the zero-subsidy funding of SBA loans has provided stability to the program, the fees that are passed on to the borrowers can make them think twice, he said. Small to mid-sized 7(a) loans can bring fees ranging from $1,500 to $3,000. "That is significant to the borrower," Rodman told Credit Union Times. "How much inventory is that?"

Additionally, the money to hire someone with the necessary expertise may not be worth the loans to be made, given the credit unions' member business lending cap of 12.25% of assets. While Actors does offer business loans, it does not participate in SBA because, Rodman explained to committee members, hiring someone at approximately $70,000 for the few SBA loans a credit union will be able to do may not make sense. (CU Times)
| | |
| --- | --- |
| Utah Credit Union Says it Wants to Become a Bank | |
SALT LAKE CITY — (March 5, 2007) - Citing state restrictions on its ability to branch and to expand, the board of directors of the $177 Beehive Credit Union has voted to try and convert to a mutual bank, a spokesman for the credit union has confirmed.

The credit union was formed in 1954 and has nearly 22,000 members. It also has seven branches in addition to its headquarters branch.

According to an article in the Salt Lake Tribune, which the credit union confirmed, the credit union has been chafing under restrictions to its powers from a 1999 state law that restricts state chartered credit unions' ability to grow.

According to NCUA, the credit union had a return of average assets of 1.17 as of the end of 2006, a number significantly higher than 0.77 peer average. It has also significantly outperformed peers in growth in net worth, market share, loans and assets. (CU Times)
| | |
| --- | --- |
| CURIA: Kanjorski Eyes New Way on CU Conversions | |
WASHINGTON - (2/28/2007) - Lawmakers are still dickering over new limits on member business lending, as they try to wrap up work on CURIA and introduce it in the House. Pennsylvania's Paul Kanjorski, the hero of HR 1151 a decade ago, told attendees to CUNA's Governmental Affairs Conference he is considering new ways to make it tougher to convert to mutual savings banks as he completes drafting the bill, the CU Regulatory Improvements Act. An ardent critic of the credit union conversions, Kanjorski said he may require a special meeting of members before they vote on the charter switch, and also require at least 30% of all members vote. This would make it very difficult to convert because few of the 40 credit unions converting to savings bank so far have obtained a 30% vote. (CU Journal)
| | |
| --- | --- |
| NCUA Plans to Wield the Stick in Bylaw Disputes | |
WASHINGTON – (2-28-2007) NCUA plans to reestablish itself as arbiter in bylaw disputes at credit unions, after two decades of sitting on the sideline, according to NCUA Chairman JoAnn Johnson. Johnson told some 4,000 attendees to CUNA's Governmental Affairs Conference yesterday that a number of recent bylaw disputes as prompted the federal regulator get back into the business of enforcing bylaw, something that it largely abandoned in the 1980's, except in case of regulatory or legal violations or financial instability. "We have never said NCUA lacks authority to enforce bylaws based on the FCU ACT, but rather opted to leave much bylaw enforcement to members and federal credit unions," said Johnson. But the past year has seen several instances where credit union boards have refused to enforce bylaws and state courts have been reluctant to step in, she said, referring to recent member initiatives to recall directors after they attempted to convert the credit unions to mutual savings banks.

NCUA staff, she said, is drawing up a rule that will once again incorporate a credit union's bylaws into NCUA rules and regulations, as it was prior to 1982, making a violation of the bylaws akin to a violation of NCUA rules. That means NCUA could enforce bylaws through a variety of means, including cease and desist orders, prohibitions or civil money penalties. (CU Journal)
| | |
| --- | --- |
| Incumbents Win in DFCU Election | |
DEARBORN, Mich. — (2-15-2007) The $1.8 billion DFCU Financial, headquartered in Michigan, saw over 26,000 members participate in a board election that returned three incumbent board members, one of whom voted to try to convert the credit union to a mutual bank in 2005.
Returned to their seats for three-year terms were J. Paul Conway, the board member who voted in favor of the conversion, as well as Jim Cowper and Keith Moss, who were appointed to the board in 2006.
The credit union withdrew its attempt in face of persistent member opposition in 2006. It also refused to hold a special meeting at which some or all of the board members could have been recalled. Since then it has taken steps, including issuing an extraordinarily large patronage dividend, which some members considered an attempt to win board support.
"The overwhelming election results clearly display our members' satisfaction in the direction DFCU's board and management is taking the credit union," said Dr. Robert Chapman, chairman of the board. "This validates that DFCU's members desire their credit union to remain on its current course." (CU Times)
| | |
| --- | --- |
| 2008 will be a slow-growth year for credit union loans | |
MADISON, Wis. (2/6/07)--With credit union loan growth outpacing savings growth, the loan-to-savings ratio increased to 84.6% in December from 83.9% in November, according to the Credit Union National Association's (CUNA) monthly sample of credit unions for December 2007.

This is the highest year-end reading since the 1970s, suggesting that for some credit unions, liquidity is very tight, Mike Schenk, CUNA senior economist, told News Now.

The liquidity ratio--the ratio of surplus funds maturing in less than one year to borrowing, plus other liabilities--remained at 18% during December. However, the widely reported problems in the housing market--combined with general weakening of economic conditions--suggests that 2008 will be a slow-growth year for credit union loans, Schenk added. (CUNA News Now)
| | |
| --- | --- |
| Critical Condition - Stagnant Growth Threatens CU Viability | |
Madison, WI - (1/31/2007) CUNA research shows recent CU growth - just about any way it's measured - has been fairly weak when viewed historically, according to the article. Deterrents to growth include current economic conditions, aging member demographics, competition, and over capitalization.

The article recommends credit unions should change current business models and practices. Just changing to a community charter on its own will not solve the problem according to experts quoted in the article. "Some credit unions convert to a community charters only to discover that new members don't necessarily line up at the door," said one leading credit union researcher.

CUNA's leading economist believes it is critical for an institution to grow. He said, "if you're not growing, you're not going anywhere." The article offered various suggestions for addressing this "critical" issue. According to several involved with the conversion of the credit union business model to a mutual savings bank, the article is just one more example of third party evidence validating their conversion. (CU Financial)
| | |
| --- | --- |
| Merger of Marcy CU into bank finalized | |
SYRACUSE, N.Y. (1/24/07)--The merger of Marcy (N.Y.) FCU into Beacon Federal Savings Bank has been finalized, making Marcy the third credit union to merge into the thrift.

The merger was set into motion last summer when $24 million asset Marcy applied to the Office of Thrift Supervision (OTS) for mutual savings status so it could merge with Beacon Federal, based in Syracuse. The merger became official Jan. 2 (The Post Standard/Herald-Journal Jan. 20).

Beacon is the former Beacon FCU, which represented employees of Carrier Corp. It converted to a bank charter in 1999 with $179 million in assets at the time (News Now Aug. 17, 2006).

In 2000, Caney Fork Cooperative CU, a $300,000 asset credit union in McMinnville, Tenn., merged with Beacon Federal, becoming the first credit union to merge with a mutual savings bank. It merged as an alternative to liquidation.

In 2003, Beacon Federal merged with $8.6 million asset Salt City Hospitals FCU after that credit union became a mutual savings institution.

Today, Beacon Federal has $600 million in assets and branches in four states. (CUNA News Now)
| | |
| --- | --- |
| Living Off of Fees | |
KEY WEST, Fla. – (January 24, 2008) This week's large rate cut by the Federal Reserve is expected to prompt a similar cut in home equity, car and other short-term loan rates, making it increasingly difficult for credit unions to earn a return on these types of loans. The move is expected to increase the pressure to boost non-interest income–fees–to make up the difference, according to attendees at the Pennsylvania CU League's CEO Summit.

Several executives said without non-interest income they would have no net income, at all. "Without fee income, most of our credit unions wouldn't have any net income," Pat Mahaney, president of the Delaware CU League, told The Credit Union Journal.

In fact, an NCUA official told the Mid-Altantic CEOs that fee income now exceeds the spread credit unions earn on their assets as a contributor to the bottom line. At the end of the third quarter in 2007, credit union were earning 86 basis points from fees, but only 75 basis points on their return in assets, according to Scott Hunt, associate regional director for NCUA.suite. (CU Times)
| | |
| --- | --- |
| Sun Shines Again on Florida CU Conversion to Bank | |
TALLAHASSEE, Fla. - (1-11-2007) – Sunshine State CU said its members approved the switch of the $170 million credit union to a bank–for the second time. The credit union announced that 58% of the 4,078 members voting approved the switch. Voting members amounted to 24% of all eligible voters. Members approved the switch more than two years ago, but the credit union was forced to withdraw its bid to convert to a mutual savings bank after an upheaval in management left it without a CEO and chief lending officer. (CU Journal)
| | |
| --- | --- |
| U.S. CUs a 'one-trick pony' in co-ops' capital formation | |
MADISON, Wis. (1/8/07)--Credit unions in the U.S. face a challenge that is unique to them for capital formation. Their only tool available is retained earnings, according to a new report from the Filene Research Institute.

"Capital Acquisition in North American and European Cooperatives" compares the U.S. credit union cooperative model with agricultural cooperatives and credit cooperatives of Europe.

Because retained earnings are their only capital base, U.S. credit unions are the "one-trick pony" in the world of cooperatives, according to George Hofheimer, Filene's chief research officer. (CUNA News Now)
| | |
| --- | --- |
| Mass. governor signs CU-to-bank conversion bill | |
BOSTON (1/5/07)--A state bill that would authorize and regulate the conversion of state credit unions to banks was signed into law Dec. 22 by Massachusetts' outgoing governor, Mitt Romney.

Massachusetts HB 5357, sponsored by Anthony W. Petrucelli, was enacted by the state's House of Representatives on Dec. 11 and by the Senate on Dec. 14, according to LegAlert (Dec. 22).

The law authorizes a credit union to convert to a mutual savings bank or a mutual cooperative bank, and establishes the rules for filing with the state credit union commissioner, the National Credit Union Administration or a regional director. (CUNA News Now)
| | |
| --- | --- |
| New Congressional Study Finds CUs Shifting from Underserved | |
WASHINGTON, DC – 12/4/2006 -Yet another government study released Friday indicates that credit unions' membership is becoming less focused on people of modest means and more focused on higher income individuals. The new study was released by congressional think tank the General Accountability Office just two weeks after NCUA released its own study purporting to show that credit union service is focused mainly on the lower- and middle-class.

It is sure to raise the level of debate in Congress on whether credit unions should have some kind of Community Reinvestment Act-like requirement. That is because the GAO study was based on more recent data, from 2004, than NCUA's, which only measured up to 2000--before the massive shift to community charters among credit union took affect. Even more troubling, the GAO study shows a greater portion of the consumers served by banks, than by credit unions, are considered of low- or moderate-income.

The GAO found that the portion of credit union members considered low income declined from 16.4% to 14.5% between 2000 and 2004; and the portion considered moderate income fell from19.3% to 16.6%. During the same period, when the number of community chartered credit unions doubled to more than 1,000, the portion of credit union members considered upper income rose from 42.6% to 48.8%. The make-up of the banks' consumers remained about the same during this period. The data appears to support the banks' criticisms that the continuing expansion of credit unions has coincided with a shift form their original focus of serving people of modest means. (CU Journal)
| | |
| --- | --- |
| CU Conversionists Refute Profit Motive | |
WASHINGTON, DC – 11/30-2006 - Some of the key players responsible for the growing conversions of credit unions to mutual savings banks denied yesterday that top managers and directors were motivated by greed. Reporting of multi-million dollar windfalls by executives of credit union-converts are "greatly exaggerated by the press," insisted Alan Theriault, chief executive of CU Financial Services, the firm that engineered almost every one of the 39 conversions to date. "The decision is made not to enrich managers and directors," Theriault said during a conference at conservative think tank American Enterprise Institute, "but because it makes good business sense."

[Another consultant] told the group that the credit union model is under heavy pressure from the current economy, claiming that more than 4,200 credit unions lost member this year. (CU Journal)
| | |
| --- | --- |
| Members Approve CU Sale to Bank | |
COLUMBUS, Ohio - 11/2/2006 – Nationwide FCU announced yesterday its members had overwhelmingly voted to approve the acquisition of the $523 million by start-up mutual savings bank, Nationwide Bank, the first deal of its kind.

The credit union said 16,718 of 42,152 eligible members, or 40%, voted and 14,872, or 89% voted to approve the unprecedented deal. The deal calls for Nationwide Bank, a savings bank chartered in April by Nationwide Insurance, to acquire the 55-year-old credit union for $79 million, which will be paid out to members on a pro rata basis, depending on the amount of savings they had in the credit union at March 31. That means the average member will get about $2,000.

The deal is similar to the spate of recent conversions from credit unions to banks, calling for the credit union to first convert to a mutual savings bank, then merge with the shell of a bank. The only difference is members of the credit union are getting paid for their interests in the credit union. The transaction is expected to close in early 2007. The credit union, which serves more than 44,000 members, is the fourth largest in Ohio. (CU Journal)
| | |
| --- | --- |
| Kanjorski Concerned Conversion Issue Could Mar CU White Hat | |
WASHINGTON — 9/19/2006 - Credit union conversions to mutual savings banks are a threat to the entire credit union movement Congressman Paul Kanjorski (D-Pa.) told attendees of NAFCU's Congressional Caucus today.

"If we don't correct what's going on out there, we're going to have a major negative backlash…" the veteran lawmaker who serves on the Financial Services Committee warned. "I see raiding as a threat to the credit union movement."

He said one possible solution to help curb the potential conflict of interest would be to move the members' capital to another institution that would carry on the same type of work. However, Kanjorski said he would rather discourage conversions altogether.

Another option would be to tax the capital upon conversion, "but that opens the door to taxation."

The lack of a minimum voting requirement to convert to a mutual savings bank was the product of an H.R. 1151 compromise. CURIA, he said, would at least require 20% of the membership to vote, adding, "I actually think that's too low."

Kanjorski added that the underlying issue of fairness is a great one to take to Capitol Hill. "Conversions are a great issue. Everyone can grasp it," he said. (CU Times)
| | |
| --- | --- |
| Three States Halt Consolidated 990 Filings Credit Union CEO and Director Salaries to Become Public Information | |
WASHINGTON—September 14, 2007 - Three state credit union regulators recently announced that they will no longer be filing a consolidated IRS form 990 for their respective state chartered credit unions.

Missouri's Division of Credit Unions sent a letter to credit unions informing them that they would no longer be filing consolidated IRS 990s for the 2007 tax year and beyond. "To this date, the Division had been one of the few state regulators that have continued to file this on behalf of credit unions. External issues have brought the Division to this decision," the Missouri letter read.

"The Form 990 is an informational return about a non-profit entity where the Form 990-T includes the calculation of a potential tax called the Unrelated Business Income Tax (UBIT)."

Virginia and Wisconsin are the other two that will stop the practice. Wisconsin's Department of Financial Institutions further explained that the proper filings will be part of the management component of the state tax examination. (CU Times)
| | |
| --- | --- |
| Judge Dismisses Anti-conversion Suit Funded by Outsiders | |
DEARBORN, Mich. (07/27/06) – A federal court ruled that federal credit union bylaws are not enforceable and dismissed a suit brought by members of DFCU Financial challenging the board's ill-fated attempt to convert the $1.8 billion credit union to a mutual savings bank. In delivering his verdict, U.S. Judge Lawrence Zatkoff said allegations of violations of a credit union's bylaws do not amount to a matter of law and threw the members' suit out. "Plaintiffs in the instant case allege no violations of federal law in their complaint, and thus the claim of federal jurisdiction is facially insubstantial," wrote Judge Zatkoff. [Three] Members of the credit union claimed that directors and management violated DFCU's own bylaws when they rejected a petition urging a special meeting to recall the entire board of directors. It was the second adverse court decision this week against angry members of a would-be credit union convert. On Tuesday, a state appeals court in Washington ruled that dissident members of Columbia CU did not have a valid claim that directors of the $700 million credit union violated their fiduciary duty when they tried unsuccessfully three years ago to convert that credit union to mutual savings bank. (CU Journal)

[Editors note: both lawsuits were funded by social activists with hidden agenda's inconsistent with sound credit union principles.]
| | |
| --- | --- |
| Dissidents Must Pay Own Legal Costs Court Rejects Columbia Dissident Member Group Suit vs. Directors | |
Vancouver, WA - (July 26, 2006) The Washington State Court of Appeals rejected a dissident member lawsuit which alleged board members of Columbia Credit Union (WA) were not fulfilling their fiduciary duty to members and for not opening credit union records to members. The dissident group was organized and led by a few social activists from Oregon who succeeded in getting several of its activists elected to the Columbia Board of Directors.

The appeals court said members "resemble depositors more than investors" and that member interests were protected by the Department of Financial Institutions. Thus members could not make claims against directors regarding fiduciary duties. The decision mirrors decisions in other states regarding mutual savings banks and contradicts assertions by the American Association of Credit Union League Executives (AACUL) and the anti-conversion group led by Jim Blaine and Bucky Sebastian that the rights of credit union members are different than the rights of members of mutual savings banks. These groups imply directors breach their fiduciary duties by considering a conversion option.

The court also supported a lower court's decision which dismissed the awarding of attorney fees to the dissidents.
| | |
| --- | --- |
| Nationwide Bank and FCU announce merger approval | |
WASHINGTON (7/21/06)--Nationwide Federal Credit Union (NFCU) and Nationwide Bank announced Thursday that the National Credit Union Administration (NCUA) approved their application to merge, according to PR Newswire.

The decision would enable the credit union to now seek its membership's agreement for the transaction, and the announcement noted that the vote is anticipated for the fall.

Nationwide FCU President/CEO Paula A. Edwards sent a letter to members mid-June announcing the Columbus, Ohio credit union's intention to seek member approval to merge with the newly chartered Nationwide Bank.

As reported by News Now, the proposed direct merger plan offers all members payment for their ownership interest in the credit union plus a premium.

Nationwide has offered to pay $79 million for the members' ownership interest, which would be distributed to all members on a pro-rata basis according to deposit account balances as of March 31, 2006. For example, a member with $1,000 in their account as of that date will receive a payment of approximately $150 for their ownership interest. (CUNA News Now)
| | |
| --- | --- |
| Profitability Plunges At The Nation's CUs | |
ALEXANDRIA, Va. (05/26/06) -- Profitability at America's credit unions declined again in the first quarter, for the third quarter in a row, to just 0.81% return-on-average assets, the lowest in more than a decade, as the flattening yield curve continued to squeeze profits. That compares to an ROA of 0.85% for the fourth quarter in 2005, 0.92% for the third quarter, and 0.93% for the third and second quarters. Data compiled by NCUA shows that loan growth for the first quarter was a tepid 0.9%, while share growth was strong at 3%. (CU Journal)
| | |
| --- | --- |
| Risk-Based Proposal No Longer A Capitol Idea | |
WASHINGTON (04/28/06) -- Chances of Congress enacting a risk-based capital system for credit unions continue to dwindle as the Senate Banking Committee prepares to vote on a regulatory relief bill absent the risk-based provision proposed by NCUA. "We understand the Senate bill does not include the proposals for (risk-based capital) or member business loans," said NCUA's congressional liaison John McKechnie, of a separate proposal to lift the limit on member business loans from the current 12.25% of assets. Capitol Hill sources said the Senate panel wants its version of regulatory relief to be similar to one passed by the House last month and to avoid any potential controversies, like the banker-opposed risk-based capital provision, in order to ease the way to passage. A credit union-specific bill known as the CU Regulatory Improvements Act, which does include the risk-based capital provision, is not expected to be voted on this Congress, even with more than 100 House members signing on as co-sponsors. (CU Journal)
| | |
| --- | --- |
| Missouri FOM Case Could Reverberate | |
JEFFERSON CITY, Mo. (03/31/06) – A state court ruling striking down the state's field of membership rule could have broad ramifications around the country as two federal courts begin to deliberate the FOM issue, one, in Pennsylvania, over similar issues. In its decision, the Cole County Circuit Court struck down many of the constricts that have allowed credit unions, both state and federally chartered, to establish ever broader areas community FOMs.

The court overruled the authority of the state's CU Commission, made up by a majority of credit union executives, to define what would be considered a valid geographic area for purposes of setting an FOM and asserted that boundaries accepted by the Commission, such as counties, townships, zip codes, telephone area codes and even cities do not qualify under the state's statute--which is based on NCUA's--to delineate community FOMs.

In fact, Judge Richard Callahan said the broad community grants awarded the state chartered credit unions did not fit the definitions of "well-defined," "local neighborhood" or "rural district," on which both the federal law and the state's, adopted in 1998 just before the passage of HR 1151, the CU Membership Access Act, rely to approve community FOMs.

The ruling comes as a federal court in Pennsylvania is deliberating on whether NCUA violated the federal statute in granting a broad six-county community charter for two local credit unions. In a separate case, a federal court in Utah is also reviewing whether NCUA violated the law in granting underserved expansions to community chartered credit unions. (CU Journal)
| | |
| --- | --- |
| Stakes Growing In Battle Over Underserved Expansions | |
WASHINGTON (03/30/06) – Hundreds of credit unions are worrying that an NCUA roll-back in its rules on underserved expansions will jeopardize millions of dollars in new capital expansions and billions of dollars more in new loans and savings accruing in the nation's low-and moderate-income neighborhoods.

The American Bankers Association is insisting that in order for it to drop its federal suit against NCUA the federal agency must bar the addition of any new members for some 200 credit unions in dozens of communities across the country, where NCUA virtually concedes those credit unions were allowed to expand illegally. "We don't think they should be allowed to continue in what amounts to these illegal expansions," Keith Leggett, senior economist for the ABA, told The Credit Union Journal. CUNA figures that at least 182 community chartered credit unions that have received underserved expansions, in apparent violation of the law, have invested more than $1.3 billion to bring financial services to underserved communities in the way of branches, ATMs and other service facilities. Those credit unions have added 1.6 million new members and made $4 billion in loans and collected $3.4 billion in savings in those communities. (CU Journal)
| | |
| --- | --- |
| Thomas Expresses Further Concern Over NCUA's Objectivity, Requests Expansion of GAO Study | |
March 23, 2006 - CU Times - 02:25 PM
WASHINGTON-House Ways and Means Committee Chairman Bill Thomas (R-Calif.) wrote in a letter to NCUA that his concern for NCUA's "independence and objectivity" was piqued at the Nov. 3 tax-exemption hearing, but further remarks by an NCUA Board Member have pushed him one step further.
In a March 22 Letter to NCUA Chairman JoAnn Johnson, Thomas stated that his fears of NCUA as a "promoter and defender of credit unions rather than a vigilant regulator. have now been confirmed."
He cited a Credit Union Times online article (www.cutimes.com) from March 14 covering NCUA Board Member Gigi Hyland's remarks to the California Credit Union League's Big Valley Educational Conference. He quoted the following from the story: "'We need to view (the Ways & Means Committee's request for information) as a chance for credit unions to frame the argument themselves. We need to tell stories of people helping people in a way that will appeal to Capitol Hill,' Hyland said, explaining that Washington responds to feel-good sound bites."
Thomas continued, "I ask that you be mindful of your proper role as an independent and objective regulator of credit unions as you move forward with your data collection project." He added that he has asked the Government Accountability Office "to expand its current review of the credit union tax-exemption to include an analysis of the independence and objectivity of the NCUA."
| | |
| --- | --- |
| CURIA Will Have To Wait | |
WASHINGTON (03/02/06) -- Congressional banking committees are likely to remain occupied with an omnibus regulatory relief for credit unions, banks and thrifts in the months before this fall's elections, making extremely unlikely a vote on the credit union-specific relief bill, known as CURIA, according to one leading lawmaker. "We're focused on regulatory relief now," Rep. Michael Oxley, chairman of the House Financial Services Committee, told attendees to CUNA Government Affairs Committee Tuesday. Oxley said the regulatory relief bill has passed his committee and he hopes it will be voted by the full House later this month. The regulatory relief bill has many, but not all of the provisions that CURIA has. Among the CURIA provisions absent are enactment of a risk-based capital system for credit unions and a provisions requiring at least 20% of members vote on conversion of a credit union to mutual savings bank. (CU Journal)
| | |
| --- | --- |
| Desjardins Raises US$614 Using Mutual Holding Company Model | |
MONTREAL (1/25/06)--Canada's largest financial cooperative, the Desjardins Group, is raising about US$614 million through corporate debt financing in Europe. It issued debt of about 500 million euros on the European institutional markets. The Desjardins Group is a network of caisses, credit unions and corporate financial centers ( The Canadian Press Jan. 20) ...
| | |
| --- | --- |
| Some 34% of Credit Union Members Oppose Tax-exemption | |
A recent survey of credit union members sponsored by CU Vote, a member education organization started by the Alabama Credit Union League, revealed that 34 percent of current credit union members oppose the tax-exempt status of credit unions. The number is startling when considering that members are often recognized as the strongest political asset the movement has to combat the taxation threat. (Callahan & Associates Jan. 23, 2006)
| | |
| --- | --- |
| Texas CUs-turned-banks change names, prepare for IPO | |
CU Times - January 6, 2006
FORT WORTH, Texas (1/6/06)--Two Texas banks, recently converted from credit unions, are updating their names and preparing to sell stock to raise capital.
OmniAmerican CU, Fort Worth, changed its name to OmniAmerican Bank Sunday. Plano-based Community CU also changed its name to ViewPoint Bank at the start of the year (The Fort Worth Star-Telegram Jan. 4).
OmniAmerican Bank said it plans to sell about $100 million in new stock this summer to raise capital. According to the National Credit Union Administration Call Reports, OmniAmerican reported net income of $4.5 million during the first nine months of 2005, nearly $4 million less than the same period in 2004, said the Star-Telegram.
ViewPoint Bank also intends to sell about $100 million in stock this year. It was the largest credit union ever to switch to a bank charter.
As Community CU, the institution had filed a suit against the National Credit Union Administration (NCUA), its chairman and its regional director in the U.S. District Court for the Eastern District of Texas that challenged NCUA's refusal to certify its membership vote in favor of converting to a federal mutual savings bank.
In August 2005, Magistrate Judge Don Bush of the U.S. District Court for the Eastern District of Texas ruled that the credit union had complied with NCUA's regulations.
During the same period, $1.4 billion asset OmniAmerican also launched its conversion process.
The court battle led boards at Credit Union National Association and a number of leagues to approve their own policies regarding credit union-to-bank conversions.
| | |
| --- | --- |
| No Longer a Credit Union, but Community CU Marketing its CU Past | |
CU Times January 6, 2006 - 03:15 PM
DALLAS – If emulation is the most sincere form of flattery, credit unions in the Dallas area should feel plenty flattered.
Viewpoint Bank, the $1.4 billion former Community Credit Union headquartered in Dallas, has started a billboard advertising campaign in the Dallas area. The advertising touts the bank's services to perspective customers on the grounds the bank had once been a credit union.
On a light background, the three-line message reads in dark lettering:
Attention of a credit union.
Resources of a bank.
(Endless possibilities).
The bank's logo and slogan, 'Viewpoint Bank, It's different here,' is on billboards' right side.
Community ceased to be a credit union after a drawn out fight with the NCUA that eventually wound up in court.
The bank has yet to return calls about the marketing effort.
| | |
| --- | --- |
| OmniAmerican Expects IPO This Summer | |
CU Times January 4, 2006 - 11:37 AM
DALLAS – OmniAmerican Bank, the $1 billion former OmniAmerican Credit Union that converted with Community Credit Union to a bank in 2005 expects to make its initial public offering of stock in the summer, according to a story in the Fort Worth Star-Telegram.
Both OmniAmerican and Community said they intended to make the stock offerings under a mutual holding company structure in their disclosure packages to members prior to the charter conversion vote. They each expect to offer $100 million in stock in their IPO's, the paper reported.
In the meantime both institutions are busy changing signage. All OmniAmerican has to do is change "credit union" to "bank," but Community has changed its name to Viewpoint Bank
| | |
| --- | --- |
| DFCU Financial was an Early Pioneer of Shared Branching | |
CU Times - January 3, 2006 - 12:15 PM
ONTARIO, Calif. — DFCU Financial Federal Credit Union, the $1.8 billion CU that has filed an application to switch to a mutual bank is one of the credit unions which founded shared branching in the U.S. and has been a leading shared branching credit union through the Service Centers Corporation shared branch network.
SCC, now a wholly-owned subsidiary of CO-OP Network, began in Michigan in 1975 when five or six CUs, DFCU Financial (then Dearborn Ford FCU) among them, banded together to begin sharing their branch facilities. In the years since the shared branch concept has grown steadily across the credit union industry to where it includes three shared branching networks and about 1,700 participating CUs.
Under CO-OP Network rules, should it become a bank, DFCU Financial will still be able to participate in both the shared branching and fee-free ATM network access but it will not be allowed to own any shares of the cooperative and its CEO will not be able to serve on the board.
| | |
| --- | --- |
| NCUA Issues Moratorium On America First Underserved Areas | |
CU Times - December 29, 2005 - 09:07 AM
ALEXANDRIA, Va.—In response to a lawsuit filed Oct. 31 by the American Bankers Association, NCUA has placed a moratorium on America First Federal Credit Union's service in its previously approved underserved areas, as well as the addition of underserved areas for all non-multiple common bond credit unions.
NCUA had approved the Utah credit union to serve a number of underserved areas that allowed it to regain much of its six-county community charter that the ABA successfully challenged.
"Providing financial services to people of modest means has always been an essential mission of credit unions. The NCUA Board continues to believe that a credit union's ability to provide service to underserved areas and to persons without access to financial services is critical to accomplishing this mission," NCUA said in a statement.
"Nevertheless, under the existing circumstances, the NCUA Board believes it prudent to withdraw these areas from America First's field of membership and to impose a moratorium on the addition of underserved areas to all non-multiple common-bond federal credit unions."
America First may continue serving its current members and the moratorium will remain in place until NCUA is finished reviewing its field of membership rules.
| | |
| --- | --- |
| US lawmaker seeks study on credit union conversion | |
14 December 2005 - 17:25 GMT
Reuters News - English
(c) 2005 Reuters Limited
WASHINGTON, Dec 14 (Reuters) - Texas Republican Rep. Jeb Hensarling on Wednesday asked the Government Accountability Office to investigate whether a U.S. regulator obstructs the conversion of credit unions into mutual savings banks.
Hensarling's request came on the heels of a letter to the congressman from America's Community Bankers, a trade group, asking for the study because of what it said was "unwarranted interference" by the National Credit Union Administration to keep some credit unions from becoming banks.
The congressman, in his letter to the GAO, said recent articles had "given the impression that a bias against credit union conversions may exist at the NCUA and could lead the administration to intentionally or unintentionally obstruct the ability of credit union members to decide freely and fairly the future of their credit union."
Hensarling asked the GAO, a nonpartisan congressional investigator, to report on whether the regulator's actions conform with or exceed its authority to oversee a conversion vote.
He also asked GAO to investigate whether the regulator's behavior in overseeing conversions acts as an "undue hindrance on the ability of credit unions to convert."
A spokesman for the National Credit Union Administration was not immediately available to comment.
| | |
| --- | --- |
| Michigan's Largest CU Files to Convert to Bank Charter | |
From CU Times - 12/14/2005 - 11:32 AM
DEARBORN, Mich. – Michigan's largest credit union, the $1.7 billion DFCU Financial Credit Union, has filed applications today with Office of Thrift Supervision and FDIC to convert its charter to that of a mutual bank.
The 160,000 member credit union is 55 years old and has a capital ratio of 12.11% as of June 2005, a number which has risen significantly since June 2003 when it stood at 9.28%.
The credit union's board voted unanimously to approve the plan of conversion, according to Kim Gabbert, spokeswoman for the credit union.
| | |
| --- | --- |
| Community Credit Union Unveils New Name and Logo | |
From CU Times 11/22/2005 03:55 PM
PLANO, Texas — Community Credit Union will become a mutual savings bank — ViewPoint Bank — when it opens its doors Jan. 3, 2006. The credit union announced the name change and revealed its new logo to members this week by mail and on its Web site.
The overriding message in the credit union's member communication is that credit union and bank attributes are being melded to create a new breed of financial institution.
"Under this new charter, we'll be more than a mutual savings bank — we'll be the best of both worlds. By combining the resources of a mutual savings bank with the service and dedication of a credit union, this new institution will be something unexpected in the banking world."
The communication reiterated the reasons for changing charters — to better serve members and to expand capital. "A credit union can only generate a certain amount of capital, so we were faced with a choice: stop expansion of our products and services and stay a credit union or change our charter and forge ahead. We chose the second option! Rest assured, we'll still have the heart of a credit union."
| | |
| --- | --- |
| CUNA letters to editor rebuff bankers' huff | |
From CU Times:
WASHINGTON (11/11/05)—Credit Union National Association (CUNA) representatives went to the papers Thursday to set the record straight about recent unfair and misleading statements about credit unions.
In a letter to the editor appearing in American Banker, CUNA Senior Vice President John McKechnie took issue with a jibe from Richard Fisch, a partner in Malizia Spidi & Fisch PC, Washington, D.C.. Fisch claimed in an earlier letter to the paper that mutual thrifts are "member-owned financial cooperatives" just like credit unions, and therefore credit union taxation is inevitable.
"Oh really?" responded McKechnie in his letter, "Then why aren't mutual thrifts lining up to convert to a credit union charter and thus become eligible for a federal tax exemption?"
The reasons, McKechnie said, are that mutual thrifts would have to:
Switch to volunteer rather than paid boards of directors;
Do away with weighted voting in favor of true "one member-one vote" democracy;
Give up proxy voting and the tight insider control that comes with it;
Limit customer base to a specific field of membership; and
Operate under a regulatory structure that has tighter restrictions on business lending, investments, and capital.
"Nice try, Mr. Fisch, but mutual thrifts simply cannot make the same claim, no matter how they misunderstand or deliberately misinterpret the real distinctions that exist," McKechnie wrote.
| | |
| --- | --- |
| Excerpts from CUNA 2005 Briefing Paper | |
October 2005
Although the bank lobby claims credit unions are "growing beyond their means" and should therefore pay taxes, the credit union share of total assets has remained virtually unchanged. From 1992 to 2004, credit unions' market share has maintained a constant 6% of total assets. The annual growth of credit unions pales in comparison to that of banks, which in 2004 alone, grew by $812 billion - more than 1.2 times the total assets of credit unions!
Additionally, banks enjoy several other advantages over credit unions, including unfettered access to capital markets, lower capital requirements, no membership restrictions, wide authority to make business loans; and, about 2,200 banks have benefited from expanded Subchapter S treatment and no longer pay taxes at the corporate level.
Credit unions remain the most highly regulated and restricted of all insured financial institutions, particularly after the passage of CUMAA, which imposed new, severe restrictions on credit unions in several areas.
| | |
| --- | --- |
| Today's Model Just Won't Cut It; Innovation the Key to Survival, Filson Says | |
08:16 PM - October 2005
ANAHEIM, Calif. – The current credit union business model may no longer be relevant to today's financial services market, said Callahan & Associates President Chip Filson as he addressed the California and Nevada Credit Union Leagues' convention and annual meeting.
Filson listed some troubling trends occurring throughout the industry, including a slowdown in growth, an inability to attract new members, and an increase in charter conversions.
Two major forces, financial pressures and changes in membership dynamics, have caused these trends, Filson said, adding that these forces cannot be overcome using current business models.
Instead, credit unions must embrace innovation in order to survive and succeed.
| | |
| --- | --- |
| Congressional Tax-Writers Eye CUs | |
From CU Journal
WASHINGTON (10/25/05) -- As has recently been rumored, congressional tax-writers set their sights on credit unions Monday, scheduling an oversight hearing on the credit union tax exemption for Nov. 3. The hearing before the House Ways and Means Committee is expected to be conducted as were similar oversight hearings held by the panel earlier this year on the tax-exemption for not-for-profit hospitals and other 501 (c) 3 organization, so-called because they derive their tax exemption, like credit unions, from section 501 (c) 3 of the Internal Revenue Code. The Ways and Means Committee has not made a witness list public yet but sources indicate that likely witnesses are representatives from the General Accounting Office, which has conducted numerous studies on credit unions and their tax exemption in the past; the Internal Revenue Service, which has held discussions with Ways and Means representatives recently; and NCUA. The trade associations are not expected to testify. Still, the trade associations expect to be heard. "At a minimum, we'll submit a statement for the record," one lobbyist told The Credit Union Journal.
| | |
| --- | --- |
| Reg Relief Markup Coming This Week | |
From CU Times 04:23 PM 10/25/2005
WASHINGTON—The House Financial Services Committee will markup regulatory relief legislation this week.
Though there are conflicting reports as to the date, it will happen this week. The committee will announce it publicly later today.
"We continue our efforts to try at a minimum to have incorporated in the reg relief bill PCA reform provisions," CUNA Vice President and Senior Legislative Counsel Gary Kohn said. "We haven't given up on member business loans either though that is more of a long shot than PCA is, which is a long-shot in and of itself."
The House Financial Services Committee leadership has expressed a strong desire to keep the bill "clean," which could significantly impede credit unions' success in getting PCA reform adopted
| | |
| --- | --- |
| Rep. Moran Warns Virginia CUs They're "Never Closer to Taxation" than Now | |
CU Timers October 20, 2005 - 02:40 PM
RICHMOND, Va. — Virginia Congressman Jim Moran (D) didn't mince words when he spoke at Legislators' Night of the NoVa Chapter of the Virginia Credit Union League.
Speaking to 85 attendees at the event, Moran warned them he believes credit unions have never been closer to taxation.
"Credit unions have the most serious challenge ever to their financial viability now facing them in Washington. They have never been closer to taxation," he said.
Citing Congress' need to fund a growing budget, as well as the costs incurred from cleanup efforts from Hurricanes Katrina and Rita, and the War on Terror, Moran said, "They have got to find revenue enhancers, and they are going after credit unions. The bankers feel they are close to taxation of credit unions, at least the larger ones. There are a number of large credit unions in Northern Virginia, and they are on the chopping block."
Virginia Credit Union League President/CEO Rick Pillow said Rep. Moran's comments "only confirm what we've feared…It's more important than ever that our credit unions and their member-owners contact Virginia's Congressional delegation and fight for the continuation of the credit union tax exemption."
| | |
| --- | --- |
| Congress Eyes CU Tax Exemption | |
From CU Journal
WASHINGTON (10/17/05) -- In what credit union lobbyists see as an ominous sign, the tax-writing House Ways and Means Committee is expected to hold hearings as early as next week focusing on the credit union tax exemption. Committee staffers have already discussed the topic and invited the Internal Revenue Service to appear at the hearing, which is being billed as exploratory, at this time. But sources say the committee, headed by sometime credit union critic Bill Thomas, R-Calif., may be looking at the credit union exemption as a possible source of federal revenues as the federal budget deficit is expected to explode from its already record levels, as expenses from Hurricane Katrina relief and the continued wars in Iraq and Afghanistan, add to the government's red ink. Officials at the committee did not return calls from The Credit Union Journal last week.
| | |
| --- | --- |
| CUNA meets with staff of House tax committee | |
From CUNA News Now October 17, 2005
WASHINGTON (10/17/05)--Dialogue between credit unions and staff members of the House tax-writing committee opened Friday in an exchange that seemed to improve the lines of communication between both parties, according to Credit Union National Association (CUNA) staff attending the meeting.
The meeting resulted after CUNA contacted the House Ways and Means Committee staff to follow up on recent reports that the committee is taking a look at the credit union tax exemption. The committee staff asked for a meeting Friday so CUNA could provide information on the history and public policy justifications for the credit union tax exemption.
"The meeting was cordial and professional," said CUNA's John McKechnie, senior vice president of governmental affairs, who attended the meeting. "Both sides, I believe, left with a feeling that there is an open line of communication between credit unions and the committee."
McKechnie said it is clear that the House Ways and Means Committee is taking a closer look at the non-profit sector and its tax status in general, but particularly at this time while Congress faces challenges in paying for relief for Hurricanes Katrina and Rita, as well as other programs. Additionally, McKechnie noted, Congress has to find ways to reconcile the federal budget – that is, make sure that the money it is considering spending matches up with the money available in the U.S. Treasury.
"The committee staff was very interested in every aspect of the credit union tax exemption and had many questions," said McKechnie. "CUNA staff provided significant responses to all of the questions about the rationale for and value of the tax exemption, and left them with several documents supporting the tax exemption."
The CUNA executive said he expects the dialogue will continue as the tax-writing committee continues to look at the nonprofit sector, and as CUNA continues to ensure the committee has the correct information about credit unions.
| | |
| --- | --- |
| CUs May be Facing Congressional Tax Battle | |
From CU Times

Friday 10/07/2005; 11:43 AM

WASHINGTON—CUNA's top lobbyist and others are seeing the background work being done for consideration of credit union taxation.

With mounting pressures on the federal budget from the War on Terror and Hurricanes Katrina and Rita, a buzz has begun inside the beltway regarding credit union taxation. "We have learned that the Ways and Means Committee staff are beginning to look at the legislative history" of credit union taxation and service to the underserved, according to CUNA Senior Vice President John McKechnie.

Credit unions have been eyeing activities in the Ways and Means Committee ever since Chairman Bill Thomas (R-Calif.) announced 18 months ago that he would look into the tax exemption of certain non-profits, using credit unions as an example. However, McKechnie said, "Our best friends on the committee…are saying we need to be on our toes."

Something could possibly take shape as early as this week, he added, though nothing has been scheduled yet.

CUNA held a conference call recently on the matter.
| | |
| --- | --- |
| LEAGUE POSITION STATEMENT ON CU CONVERSIONS | |
Policy Statement
September 09, 2005: The Assembly of Delegates of the California Credit Union League on September 8 approved a position statement on credit union charter conversions emphasizing the credit union charter as the charter of choice for providing the public with consumer-friendly financial products and services, and stressing that conversions should be approached from the point of view of the members and remain an alternative, especially should the situation change regarding the future relative benefits of a credit union charter compared to other charters.
"It is important for the League to have a position that encourages full disclosure to members and preservation of member interests during conversion considerations, maximizes the value of the credit union charter, and maintains the option for credit unions to convert for business reasons," said David L. Chatfield, president and CEO of the California Credit Union League. "We have clear evidence that banker organizations intend to gradually weaken and absorb the credit union system through their stated 'containment and conversion' strategy—to box credit unions in, limit their ability to serve their members, and create an environment that encourages more credit unions to convert over time to bank charters. So, leagues and CUNA should do all they can to resist these efforts to dismantle the credit union system while preserving credit union options."
"Although credit unions face more restrictions on their operations than do mutual savings or commercial banks, the League is dedicated to the lessening or removal of these restrictions through legislative or regulatory means," reads part of the League position statement. [Emphasis added]
| | |
| --- | --- |
| NCUA mulls options in conversion suit | |
From CUNA News Now
SHERMAN, Texas (8/26/05)--The National Credit Union Administration (NCUA) is reviewing its legal response to a U.S. District Court magistrate judge's written recommendations to support his finding against NCUA in a lawsuit filed by a Texas credit union seeking to convert to a mutual savings bank.
The federal agency can either accept U.S. District Court Magistrate Don Bush's recommendation or file an objection to it.
NCUA has until Sept. 8 to file written objections before U.S. District Judge Richard Schell makes a final ruling based on Bush's recommendations or decides to hold another hearing on the matter.
Bush's 17-page report, released Wednesday, provided written support for his Aug. 17 ruling that the Plano, Texas-based Community CU complied with NCUA's regulations in its disclosures to members about the proposed conversion to a mutual savings bank.
Bush also said the regulator's refusal to certify the credit union members' vote to convert was "arbitrary and capricious" (News Now Aug. 18).
In his written report, Bush criticized NCUA's assertion that Community CU failed to provide members with required disclosure materials. "Nothing could be further from the truth," wrote Bush.
Bush also wrote, "The NCUA should not be allowed to disapprove a vote due to a situation caused by its own ineptness, which, when reviewed from the entire record, is much ado about absolutely nothing."
| | |
| --- | --- |
| Court Releases Full Copy of Ruling In Community CU Case | |
From CU Journal
SHERMAN, Texas (08/26/05) A federal magistrate has released the text of its 17-page ruling in its findings against NCUA and the agency's efforts to overturn a member vote in favor of conversion to a mutual savings bank charter at Community Credit Union.
NCUA invalidated the vote, saying disclosures to members were inadequate because of the way the disclosures were folded and provided to members. "The Court finds that the action by the Administration is arbitrary and capricious," wrote the magistrate. "Although the Administration spends considerable time in its rejection letter on the positioning of the boxed disclosure, in final analysis, the NCUA's position is that CCU failed to provide members with required disclosure materials …The record indicates that nothing could be further from the truth."
The magistrate ruled that NCUA Chairman JoAnn Johnson had taken it "upon herself to determine whether the notice to members is accurate and not misleading. There is nothing in the Director's letter dated July 11, 2005 that makes any determination that the notice was inaccurate or misleading. The agency's determination was not only inconsistent with its own regulations, but under all the circumstances, it was arbitrary and capricious."
The magistrate added, "the Court finds that an injunction best serves the public interest by upholding the CCU membership decision, reached in a democratic manner and in compliance with all statutes and regulations, to convert to a mutual savings bank."
| | |
| --- | --- |
| National Association of State Credit Union Supervisors: NCUA Has A Conflict of Interest on Mutual Conversions | |
In a July 12, 2005 letter to U.S. Rep Michael Oxley, Chairman of the Committee on Financial Services, NASCUS President and CEO Mary Martha Fortney wrote: "A conversion (from a credit union to a mutual) is a function of a credit union's original charter, and should be separate from insurance oversight, especially since the members of the converting credit union are merely moving from one form of federal deposit insurance, provided by the NCUSIF to another, provided by the FDIC."

NASCUS is on the record with its position that the NCUA has a conflict of interest between its dual role as the authority over federal credit unions (as charterer) and administrator of the insurance fund (NCUSIF). As the combined deposit of both Texas credit unions in the NCUSIF amounted to approximately $17 million, former NASCUS Chairman Roger W. Little, deputy commissioner of the Michigan Office of Financial Institutions felt it was fair to raise the potential conflict by asking, "Is the NCUA a disinterested party?"

Editors note: NCUA transfers about 60% of the earnings from a credit union's share deposit to its own operating budget. The loss in NCUA's revenues related to the Texas transactions are estimated at $850,000 during fiscal year 2005, or $5.1 million over the typical term of a NCUA board member. NCUA's operating budget is completely dependent on these earnings and operating (examination) assessments of federal credit unions.
| | |
| --- | --- |
| Community Credit Union Members Vote for Conversion | |
From Credit Union Times Online - 6/22/2005 - 08:50 AM
RICHARDSON, Texas - A (super) majority of the 36,000 votes cast through Tuesday afternoon approved of Community Credit Union's charter change from a Texas credit union to a federal mutual savings institution.
At the special called meeting of the membership Tuesday evening, credit union officials announced that 71% of the votes cast prior to the meeting supported Community Credit Union's conversion to a mutual savings bank, and 29% opposed the conversion.
The 36,000 votes cast represented 20% of the 177,000 primary members eligible to vote. Only members joining the credit union prior to Feb. 28, 2005 were eligible. Voting has concluded, but the final tally is still a day or two away, since the votes cast Tuesday evening must be certified. Totals are to be posted on the credit union's Web site.
| | |
| --- | --- |
| CUNA Mutual Continues Bond Coverage When CUs Convert to Banks | |
From Credit Union Times Online - 6/22/2005 - 02:59 PM
MADISON, Wis. - How does the industry's largest provider of bond coverage handle credit unions that convert to banks?
According to CUNA Mutual, it does have a policy in place and that policy is to continue to provide bond coverage when they become mutual savings banks, however the coverage is not as broad as provided to credit unions.
CUNA Mutual will also provide coverage if they convert to a stock-owned bank, however the coverage changes further. The company has the converted CUs sign a document that says if they convert to a stock entity, they acknowledge that CUNA Mutual will terminate their Director and Officer coverage because the risk profile of a stock bank is very different than that of a credit union.
| | |
| --- | --- |
| CBO Explores 'If Large CUs Were Taxed' | |
From CU Times 3/8/2005
WASHINGTON—The Congressional Budget Office last month put out a report looking at the possible advantages of taxing large credit unions.
In its Budget Options report, option 27 is taxing large credit unions' retained earnings as thrifts, which could bring in $800,000 for 2006 and as much as $15.2 billion between fiscal years 2006 and 2015. The report noted that, originally, the retained earnings of credit unions, savings and loans, and mutual savings banks were all exempt from taxes. However, thrifts and savings and loans were determined to be behaving too much like their for-profit counterparts in 1951 and lost their tax exemption.
"Since that time, large credit unions have come to resemble other thrifts. Beginning in 1982, credit union regulators have allowed credit unions to extend their services (subject to some restrictions) to members of organizations other than the ones for which they were founded. In addition, most credit unions allow members and their families to participate even after a member has left the sponsoring organization," the report read. It states that large credit unions, like thrifts, now serve the general public and offer many of the same services.
Arguments for taxing credit unions include improving efficiency, according to the report, but many credit unions remain more like cooperatives and should be treated as such.
| | |
| --- | --- |
| CUs Back Off Bid For Supplementary Capital | |
CU Times Feb 25, 2005
WASHINGTON (02/25/05) -- In the few months a key government agency shed doubt on the need for secondary capital for credit unions, the credit union has backed off the supplementary capital issue.
Regulatory relief efforts soon to be introduced in Congress are unlikely to include secondary capital allowances and slower growth has cooled changed the equation, even the need, for some credit unions to beef up their capital. In fact, the vast majority of credit unions are considered to hold more than enough capital, at least under regulatory requirements, according to CUNA.
"Eighty-four-percent of credit unions have way more capital than they need. That leaves about 15-16%, about 1,500 credit unions with between 7% and 8%. And that's more than they need, though not so much that they don't have to look over their shoulders at PCA rules," Bill Hampel, chief economist for CUNA, told The Credit Union Journal.
Hampel's conclusion is similar to the one arrived at by the General Accountability Office last fall, which found there is "no compelling need for secondary capital" among credit unions. In fact, NCUA said in a new report issued Wednesday on that only 62 credit unions out of more than 9,300 were undercapitalized at mid-year 2004 under the current minimum capital (PCA) rules.
Credit unions in several of the states, including Ohio, which is contemplating credit union reform, are also backing off the quest for supplementary capital. Still, the credit union lobby, continues to express concern over the PCA rules and plans to pursue reforms in Congress this year that would enact a risk-based capital requirement for credit unions.
| | |
| --- | --- |
| Tightening Margins Continue to Challenge CU Business Model | |
CU Times Feb 3, 2005
WASHINGTON – The pressures of tightening spread margins is an ongoing one for credit unions as they continue to seek ways to meet growth targets and manage their business models.
As a percentage of average assets, the credit union industry's operating expense has declined from 3.39% at year-end 2000 to 3.19% today, reports Callahan & Associates Inc. However, during the same period net interest margin has declined from 3.77% to 3.33% resulting in the industry's ROA declining eight basis points to 95 basis points.
Meanwhile, credit unions are increasing services to the member to help boost non-interest revenue, according to Callahan. As a percentage of average assets, non-interest income has been on the rise, growing from 0.94% at year-end 2000 to 1.12% at the end of the third quarter 2004.
| | |
| --- | --- |
| Hearings on Tax Exempt Organizations Can Be Expected in 2005 | |
CU Times Feb 3, 2005

WASHINGTON—House Ways and Means Committee Chairman Bill Thomas notified House leadership yesterday that he plans to proceed with hearings on tax-exempt organizations.

One of the items on the list for the Subcommittee on Oversight is a review of tax-exe

mpt organizations. The subcommittee, he wrote, "intends to hold hearings in coordination with the full Committee and other Subcommittees on the appropriate role of tax exempt organizations."

Thomas continued, "The Subcommittee will review current law, the adequacy of IRS oversight and reporting requirements, and consider recommendations for reform." He also said the subcommittee would look into the role of 527 organizations in political campaigns.

Last spring, Thomas announced that he would hold hearings on the societal good of certain tax-exempt organizations, specifically mentioning hospitals and credit unions.
| | |
| --- | --- |
| D'Amours, Isaac Slam CU Risk-Based Capital | |
From CU Times Online edition February 1, 2005
WASHINGTON—Two former financial services regulators penned an op-ed piece in the American Banker today in opposition to a proposed risk-based capital system for credit unions.
Former NCUA Chairman Norm D'Amours teamed up with former FDIC Chairman William Isaac to attack credit unions' attempts at a risk-based capital system. "We believe this would be very bad public policy. We sincerely hope the lessons of the savings-and-loan fiasco have not been so soon forgotten," the pair wrote.
According to D'Amours and Isaac, the 2% leverage ratio contained in the Credit Union Regulatory Improvements Act is "meaningless" and "would be virtually worthless as a supervisory tool."
" If the Credit Union Regulatory Improvements Act moves forward, Congress needs to be careful about granting too much discretion to the NCUA to define risk assets, as the bill currently proposes," they wrote. "History has shown that the regulators have at times been hesitant to impose tough standards on the industry they regulate."
| | |
| --- | --- |
| NCUA to look at role in bylaw enforcement | |
ALEXANDRIA, Va. (1/23/05)—Chairman JoAnn Johnson of the National Credit Union Administration (NCUA) will soon direct her general counsel to make recommendations regarding what role the agency should take in the enforcement of credit union bylaws.

For instance, agency staff will study whether credit union bylaws—or portions of them—should be reintroduced into the agency regulations.

Johnson, who made her remarks last week at an American Association of Credit Union Leagues (AACUL) meeting in Palm Springs, said her direction to staff will come as a result of recent controversies surrounding some credit union plans to convert to mutual savings bank form. (CUNA News Now)
| | |
| --- | --- |
| NCUA Oversight Lacking - Whiplash Reaction Expected | |
GAO Says Competitive Environment May Stress Corporate CUs
For the second time in 30 days the GAO issued an alarming report which will have a far reaching and chilling impact on credit union growth. The September 2004 report warned of the concentration of credit union investment dollars at corporate credit unions and NCUA's lapses in oversight of these growing and increasingly complex institutions which hold some $55 billion of credit union deposits. A previous GAO report killed the prospects for secondary capital and raised doubts about the wisdom of PCA tinkering proposed by speculative credit union legislation. 
The corporate credit union report is likely to cause a whiplash affect as NCUA tries to save face by reining in corporate credit unions. In addition to supervisory costs, corporates are likely to face adjustments which will further affect their usefulness as an asset management and earnings tool for credit unions. 
Combined the GAO reports are causing larger credit unions to reevaluate their corporate credit union investments and to investigate the mutual savings bank option as a way to access capital and avoid public relations fallout related to the corporate credit union system and parallel weakening trends at the NCUSIF.
| | |
| --- | --- |
| Capital Conundrum Unsolved | |
GAO Opposes Secondary Capital PCA Tinkering

The outcome of the GAO report means the credit union capital conundrum will remain unsolved for a very long time thus making the Mutual Savings Bank and Mutual Holding Company (MHC) option that much more critical.

Credit unions which do not fit the historical credit union mold are caught in a political and philosophical quagmire because of the GAO report. The report indicated many of the biggest credit unions want to maintain the status quo which, along with the GAO findings, mean all credit unions are likely to go without secondary capital for a long time.

NCUA was quoted in the report as saying that the 5% optimal leverage ratio it desires for credit unions is in fact the level now authorized for mutual savings banks.

GAO said: "Credit union officials, including NCUA, have stated that some credit unions have had to reduce their services to members in an effort to satisfy PCA requirements". By this assertion, however, NCUA is also contradicting one disclosure element in its 2005 proposed regulation targeting bank conversions. This proposed boiler plate item falsely states that after conversion, services will be reduced as a result of taxation, when in fact, given the access to capital markets, increased product and market flexibility, and better consumer awareness the mutual savings bank charter will better position a credit union to serve its membership and community. (This validates the trend by credit unions to convert to the MHC and raise capital. For progressive credit unions, cutting services to members is not an acceptable option or solution for solving credit union impediments.)

Despite the credit union income tax advantage, it is an indisputable mathematical fact that a depository institution can do more for its members and its community, can offer more financial products and services, and can open more branches if it is has a bank charter with access to the capital markets.

NCUA's recent efforts to stall conversions to the mutual bank charter and impose costly and punitive conversion rules is clear acknowledgment that capital and meaningful PCA relief is unlikely.

 

The ability to select a charter that best supports the mission of a financial institution is a critical right that should be preserved and is what Congress intended when it added streamlined conversion language to HR-1151. Clearly recent events, and NCUA's repeated rulemaking targeting conversions, indicate that it is unable to remain independent and objective on the topic of conversion to the mutual savings bank charter.
| | |
| --- | --- |
| Judge finds NCUA Violated HR-1151 | |
Troubling Verdict Expected to Turn Back the Clock on Credit Union FOM Expansion - Mutual Savings Bank Charter to Offer Only Logical Alternative for Some Credit Unions

From CU Journal Online Edition

Judge Strikes Down NCUA's Community Grants In Utah

SALT LAKE CITY (12/10/04) -- A federal judge ruled Thursday that NCUA violated the Federal CU Act in 2003 by granting a broad six-county community field of membership for Tooele FCU, which at the time was the largest community charter ever granted a federal credit union. In a 21-page decision, the U.S. District Court for the District of Utah, ruled the six-county region, which encompasses more than 1.4 million people, two-thirds of the state's population, violated provisions of the FCU Act and NCUA's own FOM rules drafted to enact provisions of the law, requiring that community FOMs consist of "well-defined local community"; that geographic boundaries be clearly defined; and that the residents of such communities have common interests or interact. The ruling could have broad ramifications because NCUA has approved at least four other Utah credit unions for the same community FOM. The suit was filed by the Utah Bankers Association and the American Bankers Association. NCUA officials were not available to comment on the ruling.
| | |
| --- | --- |
| Number 3 & 4 Bank Conversions for 2004 | |
3rd Quarter 2004: Two Credit Unions Cleared for Mutual Conversion each with assets approaching $200 million, a Florida state chartered credit union and a Texas federally chartered credit union just received member approval and NCUA clearance to convert to mutual savings banks. They are the first credit unions to win NCUA clearance after the agency imposed new and widely criticized conversion requirements in February 2004.

The two credit unions won member approval by a wide margin and will represent the third and fourth credit unions to convert during 2004, increasing the number of converted credit unions to 28.

The Florida credit union, Sunshine State Credit Union, also gave members notice that after becoming a bank it will reorganize into a mutual holding company structure (MHC) and conduct a member minority stock offering of no more than 49% of the shares of a subsidiary holding company.

Dallas based Share Plus Federal Credit Union plans to continue to serve its nationwide membership from branches in four states while executing community based expansion plans in the fast growing Dallas suburbs.

[Editors Note: Both credit unions are clients of CU Financial Services and Silver Freedman & Taff, and represent the first two credit unions to convert under the constraints imposed by NCUA's February 2004 conversion regulation.]
| | |
| --- | --- |
| Lack of Awareness called "Disturbing" | |
CU Journal (3/29/2004)
Dave Chatfield, President, California Credit Union League warned that research in recent years has shown a "disturbing" lack of awareness of CUs by the general public. "Non-members don't understand what credit unions are. 70% of Californians identified banks as their primary financial institution and would support banks in a dispute with credit unions", he warned.
| | |
| --- | --- |
| Public Wary of Moving Accounts to a CU | |
OMAHA, NE (from March 23, 2004 CU Times article) In a marketing survey taken last year by local agencies the CU (Mutual 1st Federal Credit Union) found the public remains wary of moving accounts to a CU away from a bank.

But one disturbing conclusion of the survey, said Mark Uden, CEO, "is that 40% of the respondents would definitely not do business with a credit union and the scary part is that the numbers went up for those in the older age bracket." But the survey also found that having the name "federal" provided strength and security, so Mutual 1st TV ads do not mention credit union, said Uden.
| | |
| --- | --- |
| Credit Unions to Get Once-Over by House | |
American Banker Wednesday, March 3, 2004 - By Barbara A. Rehm
House Ways and Means Committee Chairman Bill Thomas on Tuesday announced plans to take a broad look at tax-exempt entities, including credit unions.
Though credit unions started out serving relatively narrow groups of people, membership today is much less restrictive, the California Republican said.
" Now the only rationale to belong is that you are warm and sometimes vertical," Rep. Thomas said. The logic behind excusing credit unions from paying taxes "has gotten at least murky, if not lost."
As the country faces a gaping budget deficit, Rep. Thomas said he planned to study the issue of nonprofits competing with companies that pay taxes and said he might hold hearings on the issue. His remarks, mainly directed at not-for-profit hospitals, were made at a meeting sponsored by the Federation of American Hospitals.
Representatives of the banking and credit union trade groups had predictably opposite reactions to Rep. Thomas's speech.
" This issue still has a long way to go, but it is really critical to have a key leader, knowing that they are going to take some flak, be willing to speak out on it," said Edward L. Yingling, the executive director of the American Bankers Association.
" We are disappointed that the chairman would choose to want to air the issue, especially with such negative rhetoric so soon," said John McKechnie, the senior vice president of government affairs at the Credit Union National Association. "This is less than six years after Congress over-whelmingly approved our tax-exempt status."
| | |
| --- | --- |
| Congress Eyes Tax Exemption | |
(From CU Journal)

WASHINGTON (03/03/04) -- A powerful lawmaker said Tuesday he plans to probe the federal tax exemptions enjoyed by so-called 501 ( c) organizations, including credit unions, to determine whether the groups continue to deserve their special tax treatment. Rep. Bill Thomas, R-Calif., chairman of the tax-writing House Ways and Means Committee, said many of tax-exempt organizations have strayed from their original purposes and cited credit unions and not-for-profit hospitals as businesses that have come to compete with and look like their for-profit peers. In a speech to the Federation of American Hospitals, Thomas said Congress should examine 501 ( c) s to determine whether they provide greater value to the public than taxable competitors. Thomas said his investigation, which may include hearings, will look into the criteria for obtaining tax-exempt status and whether the law should be more specific about the responsibilities of those organizations.
| | |
| --- | --- |
| UPDATE: Thomas targets tax status of not-for-profits | |
(From CUNA News Now)
WASHINGTON (3/2/04, UPDATED AT 4:45 p.m. ET)--House Ways and Means Committee Chairman Bill Thomas (R-Calif.) cited credit unions among the groups whose tax-preferred status should be examined to "determine if the 'societal good' that they provide warrants their special treatment," according to a report in this afternoon's edition of Congress Daily.
During a speech to the Federation of American Hospitals, Thomas said "many organizations had strayed from the original purposes for which they were given preferential tax treatment, citing not-for-profit hospitals and credit unions as businesses that have come to resemble their for-profit peers," according to Congress Daily.
| | |
| --- | --- |
| Pro-Conversion Coalition Forming in Response to NCUA's Recent Actions on CU-to-Bank Conversions | |
From CU Times
WASHINGTON – (3/2/2004) A coalition appearing to consist of banking groups and some private firms has formed to fight any changes to legislation or regulation governing credit union conversion to mutual bank charters.
The goal of the Coalition for Credit Union Charter Options will be to keep open the option for credit unions to convert to the thrift — or mutual savings bank — charter, the Coalition wrote in a "limited distribution" press release. The group's efforts in Washington are being coordinated through the lobbying firm Butera and Andrews, which has a number of different banking clients.
" NCUA has been holding up recent conversion filings and has actually overturned a legal vote in favor of conversion," said James J. Butera, acting executive director of the Coalition. "After five and a half years of reluctantly but even-handedly administering the revised statute, NCUA is now trying to rewrite the law which instructed the agency to institute new regulations that would facilitate statutorily authorized conversions."
While the Coalition official members are being kept confidential, the Coalition revealed that 22 state banking associations signed a February 3, 2004 letter to the Senate Banking Committee objecting to the NCUA's recent regulatory stance.
(James Butera can be reached at 202-347-6875; www.butera-andrews.com)
| | |
| --- | --- |
| Ad Campaigns needed to get CU Basics Out | |
LOS ANGELES - (from CU Times February 25, 2004) - Teresa Y. Freeborn, marketing and communications director for a $3 billion credit union and chairperson for a credit union cooperative ad campaign discussed the challenge of educating consumers about credit unions and stated, "...because there isn't enough image and awareness of credit unions that is positive, every time I run a radio ad I have to spend a good one-third of my ad explaining what a credit union is."

She continued, "...the research tells us that people just don't know that they can join a credit union."
| | |
| --- | --- |
| Two More Convert to Bank Charter during First Quarter 04 | |
VA and WA Credit Unions
A $90 million Virginia Beach federal credit union and a $290 million Seattle area state chartered credit union completed their conversions to the mutual bank charter during the first quarter of 2004, the 25th and 26th credit unions to make the move. Four more are in the pipeline ranging in size from $150 million in assets to over $1 billion.
@LANTEC Financial FCU of Virginia served the Navy Atlantic Fleet Command headquarters personnel until making room for $20 billion Navy Federal to take over the military base operation. Now, operating as Bank@LANTEC the depositor owned institution is executing its expansion strategy focused on mortgage lending.
First Security Bank of Washington is the new name for the former Washington's Credit Union, the third credit union to exit what many believe is the most permissive credit union state charter in the country. Improved consumer awareness and product and market flexibility are among the benefits this multi-branch former credit union will enjoy under a bank charter.
[Editors Note: Both former credit unions are clients of CU Financial Services and Silver Freedman & Taff.]
| | |
| --- | --- |
| PCA concerns raised in meeting with NCUA | |
WASHINGTON (10/1/01)--In a meeting last week with NCUA Deputy Director of Examination and Insurance Herb Yolles, CUNA staff had an opportunity to discuss their concerns about potential prompt corrective action (PCA) issues in the light of current rapid savings growth in credit unions.
The rule establishes net worth categories and establishes mandatory and discretionary actions that apply or potentially apply to credit unions that are in the undercapitalized category or below.
CUNA is concerned that as member savings build up, the resulting asset growth will produce falling net worth ratios. "All this could cause otherwise well-run, healthy credit unions to see a drop in their net worth ratios due to economic conditions far beyond their control," comments CUNA chief economist Bill Hampel. "That is why we're meeting with NCUA Board Members and senior staff now to encourage the agency to address this problem in a positive way and look for approaches that will not penalize well-managed credit unions."
| | |
| --- | --- |
| NCUA Rejects Secondary Capital Bid | |
ALEXANDRIA, Va. (07/25/01) - NCUA said it won't count as net worth an unprecedented $1 million of uninsured share issued by State Employees CU of North Carolina, despite a Big Five auditor's declaration the shares should count as net capital. "The U.S. Congress has spoken on that issue and they said we can't count secondary capital under the net worth requirements of PCA (prompt corrective action)," a top NCUA official, told The Credit Union Journal. He explained that the CU Membership Access Act, which set minimum capital standards for all federally insured credit unions for the first time, defines net capital, or net worth, for credit unions as retained earnings.
| | |
| --- | --- |
| Banks Top CUs In Customer Trust | |
WASHINGTON (07/25/01) ---For the first time since 1995, banks outrank credit unions on the subject of trust, according to new survey conducted by The Gallup Association for The American Banker. The survey of 1,001 heads of household found that 35% found that banks are more trustworthy than credit unions; while 34% said their trust level was the same; and 27% said banks are less trustworthy than credit unions.
| | |
| --- | --- |
| CUs Insist: Don't Risk Our Tax Exemption | |
WASHINGTON (02/26/01) -- Credit union executives urged CUNA during Sunday's hearing before the trade association's Renaissance Commission to protect the credit union tax exemption at any cost, even if it means settling for continued limitations on FOM and other powers. "There isn't any benefit that would be worth repeal of our tax exemption," said Shane Berger, president of $37 million Beehive FCU, Rexburg, Idaho, who came to that conclusion after comprehensive discussion with other credit union officials throughout his home state. Robert Bream, president of $3 billion United Airlines Employees CU, said he believes if credit unions continue to push for open FOMs it will threaten the tax exemption.
| | |
| --- | --- |
| PCA could put the brakes on CU growth | |
Feb 23, 2001 - CU Magazine

Some credit unions might have to take steps to prevent normal, healthy growth so they can meet the new capital requirements mandated by Prompt Corrective Action (PCA).

" We'll have to curtail growth, which means either putting limits on new money or pricing our share certificates below market so people stop putting money in," says Bruce Cramer, president and CEO of O Bee CU, Tumwater, Wash. Cramer was interviewed for an article on alternative forms of capital that will be published in the March issue of CU Magazine.

" We have a fair amount of money flowing in and it's diluting our capital," Cramer says. "Unless you have double-digit capital, which we don't, you can run up against PCA limits without realizing it. Is it fair to penalize members with lower dividends when they're rewarding you with deposits that don't increase your risk?"
| | |
| --- | --- |
| Regulator says the H.R. 1151 Victory Brings More Onerous Regulation | |
(Story filed by Lori Bahnmueller, Michigan CU League)
" We don't need any more victories like H.R. 1151," said Patrick McQueen, commissioner of the Michigan Financial Institution Bureau Wednesday at the Michigan CU League Governmental Affairs Conference in Lansing.
The CU Membership Act has borne "another layer of regulation in an area that wasn't previously regulated"--namely member business lending and prompt corrective action, McQueen told more than 80 credit union staff and elected officials.
The cost of the new regulation will be "onerous," McQueen said. "We have to look at the same issue (H.R.) 1151 and field of membership very seriously and the baggage that came with it," he said.
On the issue of prompt and corrective action, McQueen said it means: "When capital levels at credit unions fall, the regulator loads the gun. If they continue to fall, the regulator (cocks) the gun. Should the levels fall further, the trigger is pulled."
| | |
| --- | --- |
| Most Consumers Don't Know What a CU Is | |
SAN FRANCISCO (11/21/00) - The two-year CU Campaign for Consumer Choice shows the effort to pass HR 1151, the CU Membership Access Act, has had a negligible impact on the public's knowledge about credit unions, a new study indicates.

The study, conducted by the California and Nevada CU leagues, found that most people don't know what a credit union is, that most credit union advertising is wasted, and that banks offer friendly service.

The study, conducted among 1,300 consumers in 11 California and Nevada markets, found most respondents consider credit unions a good place to get a loan but not to do everyday financial business.
| | |
| --- | --- |
| Survey shows credit union awareness lagging | |
At Press Time (Basic) "News Brief"

Credit Union Times, November 17, 2000

SAN FRANCISCO - Consumers know little about credit union products and services and rate banks highly for friendly customer service, an area typically touted as a plus for credit unions, according to a survey conducted for the California Credit Union League.

Results of the 1,300 person survey in California and Nevada, said to be the first ever study of consumer attitudes conducted by the league, was discussed Friday during the league's annual meeting and convention here.

" Banks are by far and away the `top-of-mind' consideration when consumers think of financial institutions," the survey said.
| | |
| --- | --- |
| Consumers know little about CUs | |
(Filed: Mark Lowe, public relations specialist, California CU League)
Banks are "top-of-mind" consideration when consumers think of financial institutions. For example, only two out of 10 nonmembers of credit unions know the products and services credit unions offer, and only half can name a local credit union, according to a survey commissioned by the California CU League.
" The survey concluded that significant opportunity exists to increase membership by educating consumers," said Henry Kertman, league director of public relations.
The primary reasons why more consumers have not joined credit unions are that they did not have enough information, they were more satisfied with their present bank's offerings, they were ineligible, or the location was inconvenient.
<< Start < Prev 1

2

Next

>

End

>>


Page 2 of 2